Mufti refuses extension as Yatris leave for Pahalgam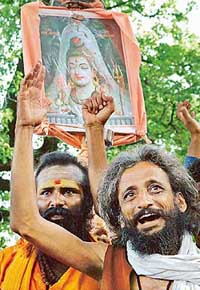 Sadhus chant hymns as they carry the photograph of Lord Shiva on their way to the holy cave of Amarnath in Jammu on Thursday. — Reuters photo
Jammu, July 1
Jammu and Kashmir Chief Minister Mufti Mohammad Sayeed today ruled out extension of the Amarnath Yatra by a month even as the Amarnath Yatra Action Committee (AYAC) sent the first batch of pilgrims to Pahalgam.
AYAC Convener Inderjeet Khajuria said sentiments of Hindus had been hurt by the rigid stand taken by the Chief Minister on the issue. He wondered why the month-long yatra could not be extended to 60 days when it had already been extended to 45 days.
The Mufti had rejected the demand for extension, citing security and weather reasons.
Mr Khajuria said as per yesterday's decision of the executive committee, the AYAC today sent the first batch of 100-150 pilgrims, mostly sadhus, headed by committee Chairman Rama Kant Dubey to Pahalgam, the base camp for the yatra.
Pointing out that the pilgrims had left Jammu without any security cover, he said: "If militants target these pilgrims, the government will be held responsible for it."
Mr Khajuria called upon all Hindu organisations and political parties to support the AYAC on this issue.
Four Congress leaders have already sent in their resignations to the Law and Parliamentary Affairs Minister Ghulam Nabi Azad against the Mufti's decision, precipitating a crisis in the PDP-Congress coalition in the state.
In an attempt to end the controversy, Mr Azad and the Mufti had on Tuesday agreed to extend the yatra from one month to 45 days.
The JK Congress Committee has backed the decision of the Amarnath Shrine Board (ASB), headed by the Governor, Lt-Gen (Retd) S.K. Sinha, to extend the yatra to two months.
Army officials here said troops would launch an operation for "area domination" — military parlance for intensified patrolling and intensive deployment of forces — that would cover the pilgrimage's route from Jammu to the shrine dedicated to Lord Shiva at Amarnath. — UNI, IANS