PUNJAB
HARYANA
JAMMU & KASHMIR
HIMACHAL
REGIONAL BRIEFS
NATION
OPINIONS
MAILBAG
BUSINESS
SPORTS
WORLD
Saturday, July 3, 2004, Chandigarh, India
Updated at 3:00 am (IST)

CAST YOUR VOTE
Do you believe that Saddam Hussein's trial is fair?

EDUCATION
JOBS & CAREERS
HEALTH & FITNESS
FORUM
SCIENCE & TECHNOLOGY
SPORTS
WOMEN
TRIBUNE CLASSIFIEDS
BRIDES WANTED
GROOMS WANTED
OTHERS
HOW TO PLACE ADVTS

2 die in firing at Badal's rally in Kharar
Kharar, July 2
Two persons were killed and three injured, including a SAD leader, in a firing at an SGPC election rally held at Anaj Mandi here today.


Two booked

Chandigarh page: Murder accused Kang escapes from police custody

DSP among six cops killed
Bid on MP's life in Doda
Jammu, July 2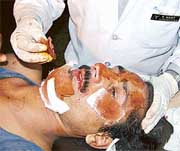 Member of Parliament Lal Singh and Congress MLA G.M. Saroori had a providential escape today when militants blew up a police vehicle escorting their motorcade at Sangampatti in Kishtwar area of Doda district, killing six police personnel, including a DSP.
A doctor tends to an injured policeman inside a hospital in Jammu on Friday. — Reuters photo


THE TRIBUNE MAGAZINES
On Sundays

On Saturdays


Jail inmate branded thief
Amritsar, July 2
A team of doctors headed by Dr H.S. Gill, Civil Surgeon, and Dr A.K. Sondhi, Senior Medical Officer, Civil Hospital, here today confirmed that "Yeh chor hai" marked on the back of a jail inmate was branded with hot iron rods during the past two or three days.
Natwar meets Powell, Kasuri at Jakarta
New Delhi, July 2
External Affairs Minister K. Natwar Singh today had one-on-one meetings with US Secretary of State Colin Powell and Pakistan Foreign Minister Khurshid Mahmud Kasuri on the margins of the ASEAN Regional Forum meeting at Jakarta.


In video New PM wants peace with India, Kasuri. (28k, 56k)

World page:

Pak denies 'tacit approval' to fencing along LoC

USA urges India, Pak to stop arms race

Pak joins ASEAN Regional Forum
Post-Godhra riot cases: 27 held, FIR lodged


Marlon Brando is no more
Los Angeles, July 2


Marlon Brando, who revolutionised American acting with his method performances in "Streetcar Named Desire" and "On the Waterfront" and went on to create the iconic characterisation of Don Vito Corleone in "The Godfather", has died.
Actor Marlon Brando as Stanley Kowalski in this file photo from the 1951 film, "A Streetcar Named Desire."
— AP/PTI photo

In Sports Tribune today
PM brings relief for Andhra farmers
July 2, 2004
Tainted ministers to stay, asserts PM
July 1, 2004
PM for uniform focus on rural development
June 30, 2004
India, Pak vow to resolve Kashmir issue
June 29, 2004
India, Pak agree on slew of CBMs
June 28, 2004
Militants massacre 12 in Poonch
June 27, 2004
Kiran Choudhary's
hopes dashed
June 26, 2004
PM for new deal to rural India
June 25, 2004
BJP skips Hindutva, targets Sonia
June 24, 2004