M A I N N E W S
Jail inmate branded thief
Pawan Kumar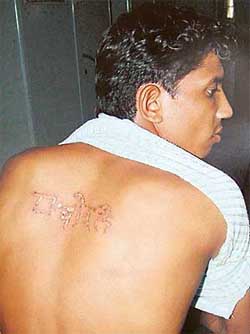 Jail inmate Rockey shows his back on which it was allegedly branded 'Yeh chor hai' by officials of Amritsar Central Jail.
— Photo by Swinder Singh
Amritsar, July 2
A team of doctors headed by Dr H.S. Gill, Civil Surgeon, and Dr A.K. Sondhi, Senior Medical Officer, Civil Hospital, here today confirmed that "Yeh chor hai" marked on the back of a jail inmate was branded with hot iron rods during the past two or three days.
Rockey was allegedly branded "Yeh chor hai" on his back by the Deputy Superintendent of Amritsar Central Jail along with some other officials. Rockey was an under trial in a theft case. This sensational incident came to light when he was presented in the Chief Judicial Magistrate's court where he took off his shirt to show the scars. The magistrate immediately ordered a Prisoner medical examination of the victim and a probe into the incident.
While talking to his correspondent, Dr Gill and Dr Sondhi said the tattoo was branded in the past two-three days and the scars were burn injuries. Besides, they said there were four more sharp abrasions on his body.
Meanwhile, Rockey alleged that the jail authorities again beat him up when he was brought back to the jail after being presented before the Chief Judicial Magistrate. He alleged they also forced him to sign on a plain paper. On being asked about the reason behind the incident, he said he had only demanded water and other facilities as per the jail's manual. However, Mr S.P. Singh, Jail Superintendent, could not be contacted even after repeated attempts.
This was not the single case. Earlier in 1995-96, the then SP, Mr S.S. Chhina, had branded also "jebkatri" on the foreheads of some women residents of Sangrur district. Later, the marks were removed by plastic surgery and all expenses were borne by the police department and the state government.