He is called The Wall for his unruffled play in the trickiest of situations. But there's more to this cool good-looking dude than his knack for hitting boundaries. He is a Padma Shri and has been declared Youth Icon of the Year by MTV. M.S. Unnikrishnan measures the length and breadth covered by Rahul Dravid.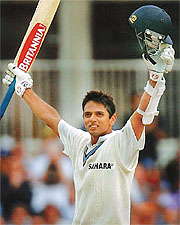 The Wall has transcended all barriers to attain iconic status. When Rahul Sharad Dravid was chosen for the MTV Youth Icon of the Year Award, ahead of Amitabh Bachchan, Ratan Tata, A.R. Rehman and Amartya Sen, his fans were not surprised. They knew that it was a just reward for a remarkable role model. And when the Padma Shri award ceremony followed a few days later, his fans were overjoyed. For Dravid, however, receiving awards and accolades has become a matter of routine. When he was bestowed the Arjuna Award in 1998, and the Wisden award in 2000, Dravid was all modesty. He never gloated over his achievements, though he has a lot to be immodest about.
PUNJABI ANTENNA
Troubled waters
Randeep Wadehra
Capt Amarinder Singh's government been trouble-prone right from its inception. It had barely quelled the Bhattal rebellion - highlighted by Punjabi news-based programmes like Lashkara's Kharian Kharian - when the controversial decision to stop old age pension backfired.