WALL POWER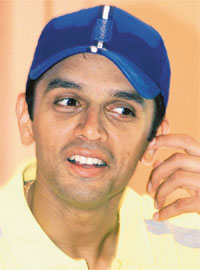 He is called The Wall for his unruffled play in the trickiest of situations. But thereís more to this cool good-looking dude than his knack for hitting boundaries. He is a Padma Shri and has been declared Youth Icon of the Year by MTV. M.S. Unnikrishnan measures the length and breadth covered by Rahul Dravid.
ďMy life has been first class after my marriageĒ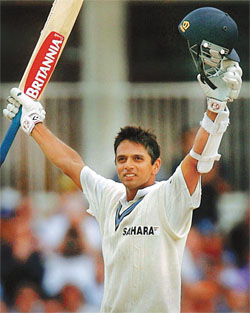 He prefers spending time at home, whenever he is in Bangalore. He turns to books and music to unwind. Winning awards is nothing new to him. And being awarded the Padma Shri was another high point in his life.
M.S. Unnikrishnan delves into the mindspace of Rahul Dravid, the ace cricketer and the perfect family man.
How does it feel to receive the Padma Shri award?
"Itís a special feeling, being chosen for the Padma Shri award. Some of my heroes have received the award in the past. Itís a great feeling to be part of such greats."
How do you describe the persona of Rahul Dravid. What kind of icon are you?
"I like spending time with my family. My family is my oasis, and life has been first class after my marriage (to Vijayeta). I enjoy reading autobiographies, biographies and good sports books. I enjoy listening to music too. I never looked upon myself as a youth icon. I donít see any difference between me as a person or as a youth icon. People tend to tag you at different stages of your career."
How great are you as a cricketer?
I was lucky to play cricket at a decent level. Cricket has made me what I am. I look forward to achieving much more in my batting. I donít compare myself with other cricketers. And I have not given any thought of becoming the captain. I havenít looked that far ahead. Sourav is doing a great job. I am happy with my present position in the team (as vice-captain). I accept the challenge of playing under pressure.
How do you look at the fast-moving changes around which the IT revolution has brought about, since Bangalore is considered as the hub of the IT industry?
"IT is playing a great role. It has brought about qualitative changes in the lives of the people, in disseminating information and knowledge".
Your take on the Indian cricket team?
"I am happy with the team chosen by the captain and the selectors. They best know the interest and demands of the team. But I have no specific answer to my present role as wicket keeper-batsman."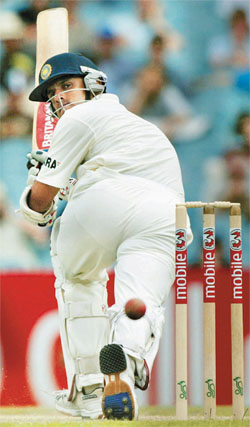 The Wall has transcended all barriers to attain iconic status. When Rahul Sharad Dravid was chosen for the MTV Youth Icon of the Year Award, ahead of Amitabh Bachchan, Ratan Tata, A.R. Rehman and Amartya Sen, his fans were not surprised. They knew that it was a just reward for a remarkable role model. And when the Padma Shri award ceremony followed a few days later, his fans were overjoyed. For Dravid, however, receiving awards and accolades has become a matter of routine.
When he was bestowed the Arjuna Award in 1998, and the Wisden award in 2000, Dravid was all modesty. He never gloated over his achievements, though he has a lot to be immodest about.
While receiving the MTV award in Mumbai the other day, Dravid presented a picture of dignity and charm, with no airs of a celebrity. "I donít think of myself as an icon at all," he said. But he admitted that such awards did not come without achieving something.
"I guess I have done something right to win this award, and I will just keep doing that". One of the very few cricketers to receive the Padma Shri, he reacted in his trademark humble manner when he was chosen for the coveted award. "Each award you win is prestigious. Itís a recognition of your good work," he noted.
Dravid has an interesting pan-Indian identity. Born on January 11, 1973 at Indore in Madhya Pradesh, Dravid did his schooling at St. Josephís in Bangalore. He was a good student, who maintained a first class academic record at the St. Josephís College of Commerce, despite missing classes to play cricket. His role model in cricket was his own father, and uncle. Dravidís exploits had encouraged his school`A0St. Josephís to make cricket as a subject in the school curriculum.
Now, this player makes it a point to teach cricket in the school while in the city. And he has also contributed liberally for the school to expand its activities.
Dravid has loosened his purse strings for many noble, charitable causes, though he does not make a song and dance about them. He has been a goodwill ambassador of the Tuberculosis Association of India, to`A0create awareness among the people about the preventive vaccination.
`A0Though he promotes myriad of products, he is very choosy about lending his name to a product. He keeps clear of liquor promotion, and surrogate ads, so as not to`A0convey any wrong message to his fans.
The ten winners of the`A0Rahul XI Mobile Gaming Promotion, launched by Hutch, who were felicitated by Rahul, came to Delhi from all over India just to meet their idol. Each one of them praised Dravidís humility, and the friendly manner in which he treated them. They all felt that the kind of cricket Dravid played was almost divine. While some praised his faultless stroke play, and classical technique, others hailed his footwork.
Dravid himself plays games on his mobile when heís waiting to catch a flight and while travelling, which is quite often. Heís also a purveyor of classical movies. There is this interesting story about Dravid and Sehwag going for an English movie in Australia and Sehwag deciding never to repeat the feat, as their wavelength "did not match." Dravid, indeed, is a man of classical tastes, whose interests go far beyond the boundaries of cricket. Being a student of history, Dravid derives his lessons from the past, to prepare himself to face the present, and tackle the uncertain future. Despite his charm and innocence, Dravidís is an enigma to many off the field.
Indian coach John Wright disclosed that Dravid vanishes into his private world of books and music once heís done with his cricket duty on the field. He immerses himself in reading, and listens to Dire Straits and Sting to tune himself out of the mundane, and focus on the goal ahead. He has proved to be an anchor for Ganguly more often than not, and has bailed out the team from tight situations on many occasions. The scourge of bowlers ó who keeps stonewalling the best of the lot, spin and pace bowlers alike ó Dravid has always projected the image of a composed, collected player. He has never let his emotions rule over his action, nor boasted of his prodigious talent.
An intensely private person, most cricket watchers have only seen Dravidís public persona ó that unruffled approach, under the most trying conditions and situations, to play for the teamís cause, and to steer the side to safety or victory.
He has never shunned responsibility, and has always risen to a challenge, when confronted with a daunting task. His impregnable defence has earned him the nickname ó The Wall. And many a bowling reputation has taken a shattering on this impenetrable human wall.
His well-scrubbed, clean good looks neatly disguise the fire in his belly. And his spotless image makes him the perfect role model for the youth. His game is built on a strong foundation; it is not flashy or impetuous. He has served the cause of the Indian cricket team with dedication in various capacities, like wielding the willow and batting in myriad positions with elan before settling at one down, donning the gloves and captaining the side.
Though Dravid has earned the epithet of being the "most successful vice-captain of India", he has never consciously thrown his hat into the captaincy ring. In fact, when he was told about his being the "most successful vice-captain of India" in a press meet in Delhi some time ago, he did not take offence. With an amused look, he remarked that this was an interesting revelation to him.
Dravid has been content serving as a reliable deputy to captain Sourav Ganguly, as he has stood with his skipper through thick and thin. Though Dravid is reckoned as the best cricketer in the world, along with Jacques Kallis of South Africa, the Bangalorean does not crave for limelight. Heís happy serving the cause of the team, with quiet efficiency and authority. He has the temperament, technique, talent and determination to excel, to be the best.
Yet, his place in the one-day side was at stake once, when critics labelled him a Ďgrafterí, a Ďplodderí who could not "pace up" the innings. But his ability to keep wickets helped Ganguly plead Dravidís case, and get him an assured slot in the one-day side.
But the strain of shouldering the batting, as well as the keeping responsibilities, is telling on him. But Ganguly does not trust anyone else with these jobs. He wants Dravid to carry on with his twin responsibilities.
"Dravid as wicketkeeper has worked for us in one-dayers. It has helped the team in terms of balances and batting depth," Ganguly had observed the other day.
Wicketkeeping is a taxing job. But Dravid is willing to go along, if his captain thinks that heís best suited to don the gloves. "I have an open mind on the issue. I am comfortable with whatever suits the team combination best," Dravid has observed. Ganguly sees no reason to remove Dravid from the keeperís job. "Heís doing a wonderful job, and we will stick to it," the captain asserted. No doubt, Rahul Dravid is any captainís delight.
His performances in Australia and Pakistan last season were nothing short of miracles. He almost won the series Down Under, and in Pakistan, he displayed his captaincy skills too, and beat them in their own turf.
"The beauty of Dravid is that he keeps his counsel, and lets his bat and glove do the talking", noted a cricket aficionado.
He played his cricket for Karnataka, before graduating to don the Indian, Kent and Scotland colours. He made his Test debut against England at Lordís in the second Test of the 1996 tour, after making his one-day international baptism against Sri Lanka at Singapore in the Singer Cup of 1995-96. Dravidís abilities are not confined to batting and keeping alone. He bowls right-arm off-breaks, and has often succeeded in keeping the batsmen on a leash. He advised his adoring young fans the other day to "have a dream" and work hard to realise those dreams.
The secret of Dravidís success lies in his unwavering concentration, and his ability to stick it out and play long, patient innings. He may not set the stand ablaze from the first ball, but once he gets going, it takes a Herculean effort to uproot him from his wicket.
The 1999 World Cup was a case in point. He struck two hundreds and totalled the highest aggregate, which earned him the Wisden Cricketer of the Year Award. These days flashy cricketers rule the roost, the likes of Dravid are rare gems.