PUNJABI ANTENNA
Troubled waters
Randeep Wadehra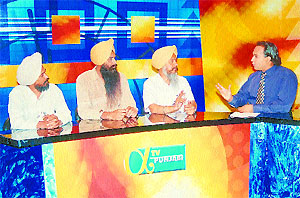 Ritesh Lakhi (extreme right) on the sets of Khabarsaar
Capt Amarinder Singh's government been trouble-prone right from its inception. It had barely quelled the Bhattal rebellion - highlighted by Punjabi news-based programmes like Lashkara's Kharian Kharian - when the controversial decision to stop old age pension backfired. Parat Dar Parat, which offers fresh insights into topical issues, dealt comprehensively with the plight of those whose old-age pensions have been stopped, as also the problem of corruption relating to release of pensions to bonafide pensioners. The unpleasant prospect of losing security-net and respect that these elderly people face, both at home and the world at large, is sad indeed.
The recent Supreme Court verdict has reignited the debate pertaining to the SYL canal. DD Punjabi, Punjab Today, etc have been assiduously covering this issue which is more than three decades old, and is often cited as one of the reasons for the rise of militancy in Punjab. Capt Kanwaljeet Singh of SAD and Randeep Surjewala of Youth Congress, representing Punjab and Haryana, respectively, were guests on Alpha Punjabi's Khabarsaar to argue the cases of the two states. The discussion was lively but the deadlock persisted.
Talking of Khabarsaar, with more than 380 episodes, it's the longest running talk show on current affairs among all the regional channels. It takes up hardcore political issues for debate. When asked to concentrate on the doings of big guns alone, its moderator Ritesh Lakhi avers, "Personalities do matter but they've to be relevant to the context`85 it is the intelligentsia and people at large who matter to us." He adds that innovations like live debates, with viewers participating via hotlines, are in the offing.
EYE CATCHER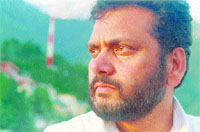 He caught the public eye as director of India's Most Wanted for Zee TV. He acted in classic plays like Rashomon, Hamlet, Ghasiram Kotwal and Urubhang. Amazing range, that. Actor, director and producer, Mukesh Gautam is a product of the Panjab University's Department of Indian Theatre. His documentaries on terrorism for Doordarshan like A Prayer for Punjab (1991) and Mittar Pyare Noo (1992) earned him recognition. He came up with fictional series like Janjaal, based on real-life crime stories of extra-marital affairs; and Pooranmasi, based on a classic by Jaswant Singh Kanwal. Earlier his serial Ganga Kinare was also quite popular. His other works include a film on Jalandhar's Harballabh Sangeet Sammelan, and a series on classical artistes like Kiran Saigal, Yamini Krishnamurthy, Pt. Birju Maharaj, Zakir Hussain and Pt. Jasraj. At present, he's executive producer with Zee Telefilms and directing the popular road show Excuse Me Please and Kujh Pal Tere Naa.