GOOD MOTORING
The price of driving with plastic money
H. Kishie Singh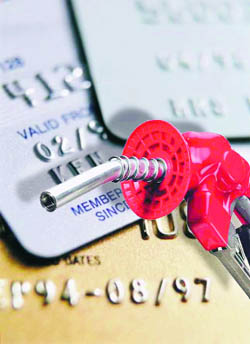 Most petrol stations donít accept debit cards before nine in the morning
In the last few years, plastic money has crept into our wallets in the form of credit or debit cards. Itís no doubt very convenient to have them but a chain is as strong as its weakest link.
A credit card is generally issued by a bank and in the case of a debit card you are required to "load" your card i.e. pay in advance and only then can you buy goods and services against the card. Debit cards for petrol can be loaded at the companyís petrol station and therein lies the problem. The station is the weakest link.
So many times in the city, one is told "Closing sir, canít activate the card." This at 10 in the morning. You may fill up petrol but it means going back to the pump again to update your account. This is inconvenient.
It is even more inconvenient when you are on the open road. You drive in to a station to fill up but are told, "Sorry sir. This pump does not accept cards." You are obliged to pay cash.
Another example of inconvenience. I had loaded my debit card for my trip to Manali. All the petrol I needed was paid for in advance. To stay in hotels, I had decided to pay by credit card so there was no need to carry much cash. On the return journey, I left Naggar at 5 am and stopped in Kulu to fill up. "Daftar opens at 9 am," I was told. Again, pay cash or wait for three hours.
Other than being highly inconvenient, the services offered are deficient too. Though money has been paid in advance, the customer has no access to it. The "weakest link" is the cause. The tourist and travel season is in full swing. Perhaps the oil companies could address themselves to this problem.
In any case you should be carrying some cash with you. That too in the lowest denomination, that is Re 1.
The Dera Bassi flyover now charges Rs 11 as toll tax. If you donít have that Re 1, it takes an agonisingly long time to get your change and receipt. At the best of times, the Dera Bassi flyover functions in a shoddy manner. This Re 1 takes them to new heights of incompetence.
The Delhi-Noida Direct (DND) flyway has also upped their toll tax to Rs 16 ó again that Re 1 increase. The big difference is that the DND flyway works at supersonic speeds as opposed to the snail-inspired staff at Dera Bassi. You can also use a smart card at the DND toll booth and be through in a flash.
Carrying the exact change is also a great help in parking lots. It saves time.
In addition to the car registration certificate (RC), you are required by law to have a valid driving licence, insurance and pollution certificate. You can be challaned if you are unable to show any one of these documents.
Happy motoring!
This feature was published on June 26, 2004