Tale of a beautiful mind
Vikramdeep Johal
The Curious Incident of the Dog in the Night-time
by Mark Haddon.
Vintage Books, New York.
Pages 226. $ 4.99.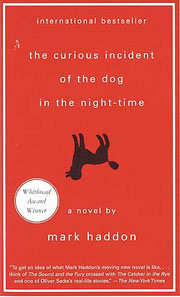 There is a wonderful story by Latin American writer Jorge Luis Borges, Funes the Memorious, about a youth who is rendered immobile on being thrown by a horse. The mishap, however, makes his perception and memory infallible. Funes starts seeing, hearing and remembering things in such mind-boggling detail that it makes his life magnificent yet virtually insufferable. Eventually, death ends his stint as "the solitary and lucid spectator of a multiform, instantaneous and almost intolerably precise world."
Christopher Boone, the 15-year-old protagonist and "writer" of this novel, is a milder, more believable version of Funes, though no less (un)fortunate. Prodigious is his mind's capacity to observe, recollect, calculate and analyse. He is way ahead of his peers in intelligence, and he knows it, takes pride in it.
This teenager's world is on the one hand very rich, brimming with numbers, formulae, lists and maps, but on the other it is quite poor, bereft of God, friends, sex, sports and the supernatural.
People are of little interest to him—he prefers the company of machines and animals. He likes being on his own to such an extent that he dreams of becoming an astronaut, all alone in an spacecraft far, far away from the Earth; or imagines himself roaming the streets in a post-apocalyptic world, having no one to talk to him or touch him or ask him a question.
With logic being his driving force and Sherlock Holmes his role model, he tries to explain just about everything under the sun. However, one thing remains inexplicable to him—human behaviour.
When his neighbour's dog is murdered, Christopher sets out to find who killed it and why. Not only that, he starts writing a novel based on his investigations. The rookie detective can't help getting entangled in the murder mystery; the rookie writer can't help making digressions, interpolations and annotations. Among the most delightful bits are his dissection of The Hound of the Baskervilles, in which he lays bare the devices used by Arthur Conan Doyle, and a tabulation of his behavioural problems (which include refusing to touch yellow or brown things, and not eating food if different sorts of food are touching each other).
It is all very funny, but at the same time insightful and moving. Christopher's obsession with truth and reality keeps him from painting the world with the colours of his imagination. He has a beautiful mind, but it doesn't give him a break, doesn't let him have fun like normal teenagers. As the novel ends, you have little doubt that this precocious boy would go far, even though you feel he is doomed to remain an island cut off from the mainland of humanity.