Off the shelf
Nanak in faith and history
V. N. Datta
Janamsakhi Tradition: An Analytical Study
by Dr Kirpal Singh.
Singh Brothers, Amritsar.
Pages 254. Rs 395.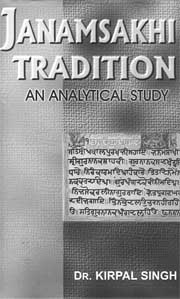 Guru Nanak never wrote or left any record of his life and achievements, while his contemporary, Babur, bequeathed to posterity his unrivalled autobiography, the Tuzak, which has become a standard source of authoritative contemporary evidence in historical knowledge.
Saints and religious teachers seldom write their memoirs. The Buddha, Christ or Mohammed never did so. They transmitted whatever they could orally. Naturally, in view of the paucity of personal records and other contemporary material, the historian faces difficulties reconstructing the lives and activities of such personalities in whom history and belief merge.
Without evidence there is no history, but evidence in itself is of varied types; and it is for the historian to determine its authenticity by his insights and technical skills. However, a historian confronted with a massive evidence of high reliability may not be able to make worthwhile use of it, while by drawing bits of information from the material of a dubious nature, he may draw a picture which has an authentic ring. Of course, there are problems relating to the value and authenticity of historical material, which naturally spring from Dr Kirpal Singh's latest work on the Janamsakhis.
Dr Kirpal Singh started writing on Janamsakhi literature in 1966 and in this connection travelled along the 16th century trade routes from Nanakmatta (Uttaranchal) to Ceylon to identify the gurdwaras associated with Guru Nanak and his itineraries. Such an ambitious venture raises much difficulty in view of the paucity of contemporary source material and is also risky, particularly when the evidence reconstructed retrospectively of a later period has to be interpreted.
Compiled during the 17-19th centuries and presented in a dialogue form, the Bhai Bala, Miharban, Bhai Man Singh and Puratan Janamsakhis relate exclusively to the life and teachings of Guru Nanak. According to Kirpal Singh, "the Janamsakhis elucidate the mystic concept of spiritual elevation, provide the earlier exegesis of Guru Nanak's hymns and illustrate his teachings by narrating and interpreting anecdotes which throw light on his life and teachings".
His aim is to "identify the historical elements that lay deep beneath the Sikh tradition. He claims to have applied modern historical criticism to his investigations.
The provocation of this study is the Western scholar's general tendency to dismiss the Janamsakhi literature as spurious and hagiographic, full of myths and miracles, and other material of a dubious character.
This tradition of doubt was started by Dr Ernest Trump. Dr W. H. Macleod, too, is skeptical of the reliability of the information cited in the Janamsakhis relating to some of the places and events described therein... he has classified the Sakhis in categories, such as "likely", "not likely", 'possible', and 'not probable'. He holds the view that the Janamsakhis represent the Nanak of faith and not of history.
Taking up the challenge, Kirpal Singh has examined the entire corpus of literature with the aim of verifying the truthfulness of accounts. He has taken into account the prevailing social economic conditions, local tradition, and old trade routes as factors to understand the veracity of the narrative. Generally, the information on Guru Nanak's activities in India that is accepted by the Western writers is about his family relations, the period of employment in Sultanpur and the foundation of Kartarpur.
The Janamsakhis show the profound impact of Guru Nanak's life on his devout followers, who wrote such laudable accounts about him, which may at first sight appear staggering. Guru Nanak was indeed a man of great piety and compassion, and the stories and anecdotes weaved around his life are bound to provide solace to a generation of men. Janamsakhis take us closer to him in time where we meet a form of history that depends on reporting and modes of transmission. A general picture presented of a story apocryphal might be more true than a story that can be established as absolutely correct and documentarily demonstrated.
In his introduction, Dr Prithpal Singh has a valid point that Janamsakhis were written to foster faith of the religious-minded people. Kirpal Singh's whole exercise has been to show that the Sakhis cannot be dismissed as trite, but remain by virtue of their authenticity a primary source on the life and teachings of Guru Nanak.
Essentially the general picture provided in Sakhis may be true, but on details there may remain differences. Whether Guru Nanak visited a particular place or not does not diminish his greatness. His message of universal love and compassion is an enduring legacy.