FOOD TALK
Bowled over by brinjals
The eggplant can lend itself to different dishes in unusual flavours and styles, writes Pushpesh Pant


Khatmitthe baghari baingan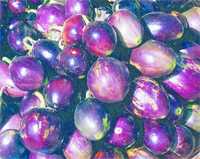 Eggplant (small oval) 1/2 kg
Peanuts 100 gm
Khus khus 1tbs
Til (black) 1 tbs
Dhaniya (powder) 1 tsp
Chilli, (powder) 1 tsp
Haldi (powder) 1 tsp
Sambhar powder 1 tsp
Imli (paste) 2 tsp
Gur (crumbled) 2 tbs
Refined oil 2 tbs


The eggplants: Wash, pat dry slit into four without separating the slices. Shallow fry with very little oil on a non-stick pan, Better still, microwave for four to five minutes.
The sauce: Ground to paste the peanuts, til and khus-khus. Blend gur and imli with little water bring to boil and simmer. Keep aside.
Put 1 tsp of oil in pan, then the eggplants, then the spice powders, stir for 2 minutes, add the paste and gur-imli. Cook on low heat for seven to eight minutes.
Tarka : Put remaining oil in a pan, add hing, methidana, curry leaves, green chillies and when the seeds crackle and leaves release their aroma pour over the eggplants. Serve hot with rice or phulka.
One of the famous witticisms ascribed to Birbal, one of the nine jewels in Akbar's glittering court, pertains to baingan, brinjal or eggplant. When the Grand Mogul expressed his liking for it, Birbal chipped in "Sir that is why God has put a crown on baingan's head! 'The next day Akbar complained of a stomach ache after eating baigan, Birbal was quick to comment 'Highness, that is why it is called begun- lacking any qualities.' Akbar was surprised by this quick change of mind and wanted to know how Birbal could so easily give up his earlier views. Birbal responded in his inimitable way, 'Majesty, I am loyal to you not to baingan!' Then there is the derogatory reference to an unreliable person that compares him with a baingan on a thaali - rolling with the tilt- opportunistically following the line of least resistance. Anecdotes apart, there are many who remain loyal to the baingan.
The baingan is encountered in perhaps more avtars than any other vegetable. In Punjab, we have the wonderfully smoky, charcoal-grilled or tandoor-baked bharta that changes its texture and tang in Bihar where it wears a drape of mustard oil, in Benga, there is the baingan bhaja—irresistible fritters. In the Hindi heartland, bharvan, kalonji ke or achari baingan are immensely popular. These dry variations are excellent to carry along on a journey or office lunch as taste is not diminished even when eaten cold and are easy to share and make lovely roti-rolls too. Kashmiris are partial to the khatte baingan -a subtle dish prepare traditionally with dried eggplant. Hyderabad has the signature dish baghar ke baingan, a curry in peanut sauce, a magical blend of sweet and sour, fusing flavours from the north and the south. Deep down south, baingan is spiced up with a special masala strong enough to be married with rice to make a delicious one-dish meal. Most sambhars are incomplete without the brinjal. There is also a reference to the baingan being used to mimic a chicken drum-stick for the vegetarian in a Rashtrapati Bhavan banquet during the days of Babu Rajendra Prasad.
It was Ananad Krishna ji at Varansai who introduced us to the seductive power of sheer simplicity when he served us namak ke baigan. In this recipe, as the name suggests, nothing interferes between the banigan and the diner. No pyaaz, lahsun, haldi, dhaniya or even mirch. Forget any khatai or tamatar-shamatar. It is imperative to take farm-fresh eggplants and have the patience to extremely slow cook these after 'slitting but not separating the slices' with just a pinch of salt. Garnishing with fresh coriander may be acceptable and perhaps a drop of lime allowed.
The Greek moussaka uses egg plant slices as its base and small cubes of this vegetable offer themselves as an interesting other than usual 'sweet-and-sour' veggies option in the Indian Chinese repertoire. According to ayurveda brinjals are good for diabetics.