Hollywood hues
Web of terror
Ervell E. Menezes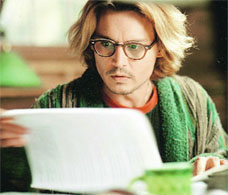 Johnny Depp in Secret Window
What goes on in an author's mind when he's experiencing a writer's block? And what is the physical outcome? Sleeping on his favourite sofa 16 hours of the day. To make matters worse he is in the midst of a painful divorce. And then someone knocks at the door accusing him of plagiarising his story and vows to get even with him. These are the ingredients which make up Secret Window a tense, edge-of-the-seat psychological mystery thriller.
Mort Rainey (Johnny Depp) is the author in the throes of depression when psychotic stranger John Shooter (John Turturro) comes to his dingy lakeside cabin demanding compensation for his story. "What you don't know is if we start a fight it won't end till one of us is dead," Shooter tells Rainey.
So Rainey goes scurrying for help. A 70-year-old arthritic Sheriff is of little help, so he goes to the nearby cops and when things get hotter he goes to his ex-wife Amy (Maria Bello) who now has a live-in boyfriend Ted (Timothy Hutton). But Shooter will give Rainey no respite. First, Rainey's dog is killed. Then a neighbour and a cop. It is weird situation with the psychotic killer terrorising his prey. He also wants a new ending to the story.
Based on a Stephen King novella, Secret Window is also about a secret window that opens out into a secret garden and this is apparently symbolic. So director-scriptwriter David Koepp has ample scope to scatter suspicion like mustard but he doesn't make a meal of it like a glutton. Shooter probably has the best lines. Shades of John Malkovich in In the Line of Fire. But it is the author Rainey, played with usual elan by Johnny Depp, who virtually steals the show.
And just when the findings reach a dead end comes the secret window which turns everything inside out and upside down. Ted is naturally hostile to Rainey but is he a likely suspect. No prizes for guessing correctly but this 90-minute thriller has the viewer engrossed right through. Johnny Depp rises to the occasion and John Turturro, who was in Redford's Quiz Show is not far behind. Timothy Hutton is relegated to a cameo role and Maria Bello is merely decorative. But Secret Window is a real stunner even if it tends to leave the viewer with a sense of deja vu. It's worth unravelling the secret.