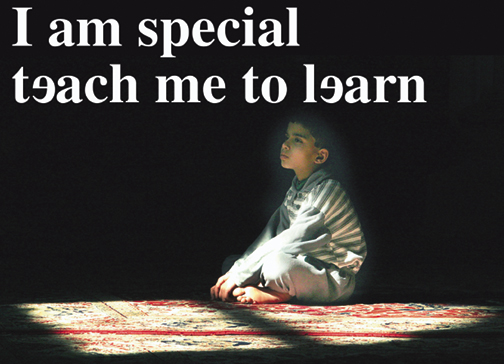 As much as 8 to 14 per cent of children in India are suffering from dyslexia, according to an NCERT survey. The Delhi Court has directed Delhi University to reserve 3 per cent seats for dyslexics. Priyanka Singh reports on how effective teaching strategies can help students afflicted with this disability.
Ten-year-old Ranjan should be in the fifth standard, but he is in the first. Ask him the colour of grass and he will say blue. Ask him which letter does the word "mat" begin with and he will say "w" or "h" or any other related sound. He will be corrected over and over again but the chances are that he will forget it in a week's time.
Seven-year-old Arjun too displays similar disability and confuses alphabet. These children are not mentally retarded but are dyslexics. While in Ranjanís case it is suspected to be hereditary, Arjun owes it to head injuries he sustained between the ages of six months and four years.
Dyslexia or learning disability as it is commonly called, is diagnosed when a childís achievement in "individually administered, standardised tests in reading, mathematics or written expressions is substantially below that expected for his age, schooling and level of intelligence." Contrary to popular belief, it is a common diagnosable deficiency, estimated to affect at least one child in 10.
A lot of research has been undertaken to establish the causes of dyslexia. "To put it concisely, the wiring between the nerve cells goes wrong due to which there is a problem in neuro-transmission. It is generally a conglomeration of genetical, biological and environmental factors," says Dr Pratibha Singhi, Head of Neuro Development, Department of Paediatrics, PGI.
Subtle brain damage could also be responsible but primarily it is a development disorder where the process of information storage and its retrieval gets impaired, she says.
Dr Prabhjot Malhi, Associate Professor in the Department of Paediatrics (PGI), lays emphasis on early detection and comprehensive evaluation while discarding the piece-meal approach. The diagnosis has to be three-tier, involving the ruling out of underlying medical problem or neurotic deficiency, reliable estimate of the childís intelligence and assessment of the childís academic achievements. Broad indications would include difficulty in reading and writing, excessive and consistent spelling errors and problem in minding lines and spacing words.
If the parents suspect something, they should first take the child to a counsellor and only if the counsellor feels that the condition needs medical help, should a referral be made to multi-speciality hospitals. Help can be sought from any government medical institute that has multi-disciplinary teams that work in tandem before arriving at a consensual diagnosis, says Dr Malhi.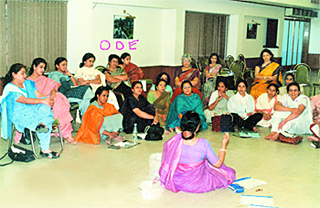 Teachers attend a workshop on learning modules for dyslexics
Fortunately, most schools now have managements that are sensitive to the problem and recognise it as commonplace. Sharda Rangarajan, who runs Anugrah Shiksha Kendra, says a lot has changed now. More and more schools are integrating a special study package for such children in the curricula and evaluation is done as per the capacity of the child. "We have children from several schools coming to us and I generally set the papers for these children at schools. There are several categories of this disability like dyscalculia (mathematical limitations) and dysgraphia (problem of script formation). It is vital to identify the category before working on it. Sometimes, a child may be suffering from auditory problems. At the Kendra, we undertake tests (Rs 150) to assess the limitations of the child. In government hospitals, of course, the tests are undertaken free of cost," she says.
Though the fee is Rs 100 for an hour, she is not strict about it since some parents canít afford to pay it.
St Xaviersí has four teachers who have been trained in Delhi with a specific purpose of facilitating the education of such children. There is a centre on the school campus itself and classes are held three days a week during school hours. There are about 15 students and the teacher-student ratio is 1:1.
"We insist on the presence of parents at the centre as the environment and the method of teaching is different from that of a regular classroom and parents can assist the child by recapitulating the dayís work at home," says Mervin West, Principal of the school. "I only wish I had more trained teachers with high maternal instincts to be able to be patient with children," he says. "We had a student in Class X who had been labelled dull. When his case was identified as that of dyslexia, we immediately started working on him and he scored 70 per cent in the ICSE board examinations," Mervin adds.
Gurmant Sandhu, a counsellor-cum-special educator with Vivek High School, has been in this field for over 10 years. "School managements have over a period of time become more receptive and believe in the formal assessment of children. It makes it a whole lot beneficial, if the cases are with 7-10 per cent of the school-going population suffering from some form of learning disorder, there has to be some kind of a mechanism in place to handle the needs of such children," she says, ruing that sometimes the parents are not forthcoming and the child has to lose on it.


Some facts about dyslexics
They are near average or above average in intelligence, yet are unable to perform well academically. They are not mentally retarded.
Their IQ is generally higher
The occurrence is four-five times more often in boys than girls
Show inconsistencies in work. Submit near-perfect work one day and it may be incomprehensible the next time around
Learning disabilities are often accompanied by emotional and behavioural problems
The Joy Lall Memorial Educational Society in Panchkula takes in those affected with learning disability. It also allows students who are slow learners but they have to be suffering from some kind of learning disorder as well. It has started an Optimising Development in Education (ODE) programme on the premises of Hansraj Public School and charges Rs 1,500 per month per child for five days a week.
"Our fees varies as per the time put in for every child. There are about 15 students in our care but we canít take in more since the space is limited. We are not funded by the government as the Rehabilitation Council of India (Delhi) does not recognise learning disability as a disorder. Nevertheless, we are fighting for it," the general secretary of the institute, Bharati Kapoor, says.
The ODE also holds workshops on learning modules for teachers and helps schools establish resource rooms to develop remedial programmes.
Atul Khanna, Director of Strawberry Fields School, lays emphasis on the triangular concept, wherein the teacher, parents and the child is involved to make it possible to overcome learning disability. Though some parents are reluctant to accept the disability in their child, the effort is to orient them with the help of our in-house counsellor, he says.
A different way of teaching is adopted for each child with flash cards, toys and multi-sensory aids forming part of the programme. A child may be put through a battery of emotional, physiological and psychological tests to assess the degree of disability.
Auditory and visual back-up is put to use and the classes are generally of short duration. The sessions are interspersed with talks and block games for relaxation and care is taken not to make the exercises repetitive. The focus remains on the use of shorter sentences and the blending of sounds, with words being split into syllables for greater comprehension.
Help groups
Ms Sharda Rangarajan, Anugrah Shiksha Kendra, Sector 34-D, Chandigarh, Ph. 0172-2667744
Ms Bharati Kapoor, Optimising Development in Education, Hansraj Public School, Panchkula, Ph. 9815382979
Ms Sumita Mehta, Indira Holiday Home, Sector 24, Chandigarh, Ph. 9814119193
Stressing on the role of teachers, Rangarajan says that a teacher generally groups students into performers and non-performers. It is vital that the teacher be able to identify dyslexics. They may exhibit brightness in some areas and may be underachievers in certain others. A teacher should not attribute this to the laziness of a child or to defective intellect. Late maturity has to be distinguished from true disability syndromes.
The Anugrah Shiksha Kendra intends to set up a research centre to help assess the aptitude of each child. This will run parallel to regular classes and remedial sessions. Yoga and meditation have been introduced in the ongoing summer camp at the kendra to build concentration among the students.
The CBSE and the ICSE do offer some concessions to dyslexics. Students are given 60 minutes as extra time to write the papers and they have the option to drop the third language, depending on the severity of the condition, says Sabu, Regional Officer, CBSE. They can opt for any four subjects from among maths, science, social science, painting, music, home science and any one language, he says. A writer may also be provided, usually from a junior class, however, a medical certificate has to be submitted from a government medical institute, confirming the disability.
Xavier Pinto, Deputy Secretary, ICSE, says that the council may make arrangements for a calculator and computer, besides a writer, once the degree of disability is certified. The students are given extra time and are exempted from second language.
Since the awareness levels are low, parents often go in the denial mode. They would rather their child goes in for heavy tuitions than seek help from therapists and educational counsellors. A lot of parents are disinclined to speak about their childís disability and hesitate to seek help.
A parent, who didnít wish to be identified, says they preferred to keep shifting their child from one school to another, hoping his performance would improve, rather than make arrangements for special coaching. "We tried to wish away the problem but got a rude shock when his performance hit rock-bottom. It is only then that we sought help."
Another parent feels that because of ignorance, people are low on sensitivity and dub the child "dull" or "moron." Rejection and snide remarks affected her sonís esteem but "we stood by him and now he is in Class XII and doing well. We are proud of him for having held out on his own," she says.
The thing to remember is that dyslexia cannot be cured but can be overcome through sustained efforts. If such a childís area of interest is identified and potential tapped, he would show high IQ levels. The interest areas could be art, music, sports or computers. Albert Einstein, Leonardo da Vinci, Thomas Edison and General George Patton were all dyslexics.
These students are excellent in athletics and may have a natural knack to handle computers and electric gadgets. Some of them are brilliant with graphics and geometrical figures and since they have a good sense of space and proportion, they could make competent architects. Their outlook is positive and their visual memory highly retentive.
Some of these students have represented Chandigarh in cricket and volleyball.
What such students want is support and encouragement. It is important that they be treated like normal children. Gentle prodding in the right direction can help them achieve what to most people would seem impossible.
(Some names have been changed to protect the identity of the sources)