A SHORT AFFAIR
Bermuda, at the centre of many an exotic legend, is not the scary place it is made out to be. Instead, with its picture-perfect islands, it is a tourists' paradise, discovers Mohinder Singh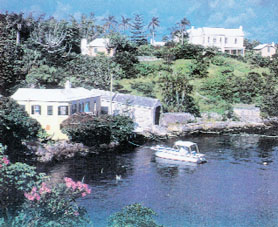 Bermuda is the quintessential tourist island because of attractive living conditions and adequate facilities for visitors
Mark Twain, a frequent visitor to Bermuda, claimed, "folks on their way to heaven stop off in Bermuda and think they have arrived". While visiting our son in New York, a surprise was in store. We were handed return air tickets for Bermuda, and five days with full board and lodging at the Southampton Princess, a five-star hotel with its own golf course.
Bermuda is as pretty as its postcard pictures. Green hills, pink sandy beaches, pastel-coloured houses with gleaming white roofs, flowers in a riot of colours, and blue skies impart it a fairyland look.
Just 21 miles long and barely a mile wide, Bermuda is a fishhook-shaped chain of nearly 150 islands made from coral or lava. Situated 900 km parallel to New York, the islands have a mild, equable sub-tropical climate. The famed Bermuda grass of thick evergreen variety. And there is a profusion of flowering bushes such as bougainvillaea, lilies, oleander, hibiscus, and poinsettias.
Bermuda has no river or stream. But it enjoys around 60 inches of average annual rainfall, well distributed enough to keep it lush green throughout the year. Let alone fairways, even greens on the golf courses are not watered artificially.
The local authorities take extraordinary care to retain the old-world charm of the islands. No high-rise buildings are permitted. Neon signs are strictly forbidden and so also roadside billboards. There are no polluting industries. A striking feature is the all-pervading cleanliness.
Roads have been kept intentionally narrow, with the upper speed limit at 20 mph and the use of cars is discouraged. There is an excellent network of public ferries and bus services, while mopeds and cycles form a common mode of conveyance, both for locals and tourists. You can easily hire a moped or a cycle.
Bermuda is a self-governing colony of the British. The resident population is just over a lakh. One-third of the population is of whites, British and Portuguese settlers, while the rest are the descendants of African slaves. We saw quite a few Indians and Pakistanis working in hotels and restaurants.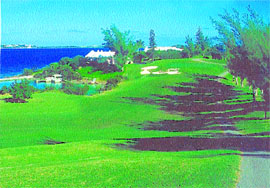 The lush surroundings are soothing for holidaymakers. — Photos by writer
Per capita, Bermuda is the third richest country in the world and amazingly, has virtually no unemployment, income tax, and illiteracy. Because of attractive living conditions, numerous insurance companies and banks have started operating from here. It is a calling port for several cruise lines. One or two tall, gleaming cruise ships anchored right along the Front Street, the premier shopping street of Hamilton, the capital town are a wonderful sight.
Bermuda is the quintessential tourist island. And the island's population fully recognises how much it depends on tourist traffic. From the helpful taxi driver to the courteous shop salesman, Bermudans treat visitors as they would any treasured natural resource. The almost omnipresent smiles set a tone of friendliness that is hard to resist.
Within a total geographical area of 20 square miles, there are eight golf courses, a golf density unmatched elsewhere. These are well designed, challenging courses, with some of the most scenic surroundings.
"Everywhere, there is stunning beauty, that precious part of the golfer's legacy and the island of Bermuda, a minute speck in the northern Sargasso Sea, makes a background for the game," says the World Atlas of Golf.
Bermuda has one of the prime sports fishing grounds in the world. There are ample facilities for snorkelling and scuba diving, water skiing and surfing and glass-bottomed boats for observing marine life. The island also boasts of some of the world's most beautiful coral beaches. The pink sand on many of these beaches is real. The rosy specks are actually weathered bits of red shells.
There is no jarring note or blemish for a tourist who wants a holiday in relaxed and civilised surroundings. There are no casinos or exotic nightlife or pleasures of the flesh trade. The place prides itself in its natural charm and quaint British atmosphere.
First-time visitors are usually nonplussed at the sight of businessmen or bureaucrats walking down Front Street, briefcases in hand, dressed in jackets and ties — and shorts. Originally started as a concession to warm months, Bermuda shorts have become the standard uniform of Bermudan businessmen and officials.