Raw beauty of Bastar
Life in the tribal area of Bastar in Chhattisgarh takes us back to our roots. Malabika Sen writes about her unique experience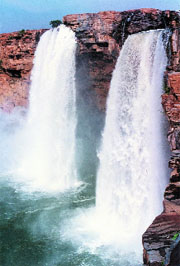 The serene Indravati has a sudden drop at Chitrakut
The travel bug that bites us ever so often, prompted us this time to pick up the railway time table to decide our destination. So from Vishakapatnam (Vizag), we hopped on to the slow train to Kirandul a track not often circuited by regular holidaymakers. Our final destination was Bastar district in Chhattisgarh.
The sights, sounds and even smells of nature hit us as we embarked upon this 12 hours of joyful journey as the train chugged through jungles, under waterfalls, along rivers and hills. We traversed the three large states of Madhya Pradesh, Orissa and Andhra Pradesh. We got off at Jagdalpur, the district headquarters located in the southern tip of Bastar. We made it a point to check out with the locals what to see and where to go as they are the best guides.
We booked a cab for the day and started early the next morning to see a famous waterfall. The serene Indravati river, along which we drove, comes to a sudden drop at Chitrakut. We were not prepared for what the eyes were to witness. The majestic drop of the river water, from a height of 90 ft, left us spellbound.
Chitrakut is a beautiful spot where one can spend a day fishing and exploring and who knows one might be taken to be a wild creature. I am actually talking about tribes that are really very primitive such as the Abujmaris but are now well protected by the government. One has to take permission from the District Collector in case one wants a visit.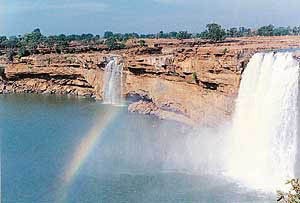 Gushing waterfalls are a perfect foil to the rugged and rocky terrain.
Abujmaris are far removed from civilisation and inhabit hilly jungles spread over the tehsils of Narainpur, Bijapur and Dantewara. History may have passed them but they too have chosen to completely ignore the world. They are happy following their own customs, beliefs and have their own dialect and culture. Their unique lifestyle and dress have intrigued the international media and some have managed to document their lifestyle by camping for months among them.
It isnít surprising that one might bump into a blue eyed or a blond head Abujmari. This explains the necessity of a special permit required these days to visit Abujmar. It is a measure taken by the government to preserve the species.
This tribe lives by its own rules. Both men and women wear a small piece of cloth around their waist and their jewellery is made of twisted iron and beaten brass. They drink water like cattle putting their mouths to the stream. Stone implements are used for harvesting. Though a shy lot, the women folk enjoy a lot of freedom. Widow remarriage is common as is the freedom to seek a divorce on grounds of adultery and incompatibility.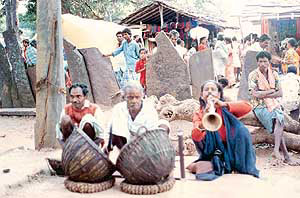 Visiting the weekly bazaar in Londiguda
is a unique experience. ó Photos by writer
After this magical experience, we visited a nearby village, Londiguda. We were lucky as it was the weekly bazaar day. Londiguda was indeed a kaleidoscope of experience. On the one side, the tribals dress up in a bright attire, cacophony of cockfight, exchange of wares for barter, the strong aroma of fried food and on the other hand, the crisp smell of freshly picked vegetables, along with stacks of clay pots, not to miss the fascinating music being played by them. As one went around the market, we found women sitting with beautiful handcrafted tribal jewellery made out of peacock feathers, brass, iron, wood, bamboo beads and odd pieces of coloured stone.
Our next stop was Kutumbeswar. These are natural caves first discovered by the tribals. Even today the tribals worship the stalagmites as their gods and goddesses. Time was running out but we had to visit the government-run centres for tribal crafts in Jagdalpur. There was the famous kosa centre that spins out the famous tussar silk. The entire process right from the cocoon stage of a silk worm to a full nine-yard saree could be seen.
Finally, it was time to pack our bags to get back to reality but not without wanting to share the experience of the discovery of an almost untouched existence.