Stylishly simple Nagesh
V. Gangadhar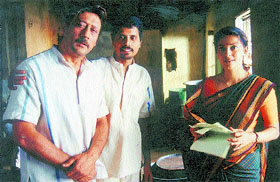 Jackie Shroff, Nagesh Kukunoor and Juhi Chawla in 3 Deewarein
'They got married and lived happily thereafter'. Or did they? The hero in Nagesh Kukunoor's surprise hit, Hyderabad Blues was arrogant about his success in the US. The heroine, a local doctor, had her own sense of nationalism and pride. They fell in love gradually, squabbled often, but finally
got married. Did the
marriage work out?
We will know very soon. Kukunoor is almost ready with the sequel to the earlier film. Hyderabad Blues II looks at the couple after six years of marriage. Knowing Kukunoor one can be sure that he will not deal just with the usual post-marriage hassles. "The film will have the earthy flavour of Hyderabad Blues", says the restless Kukunoor. "It is a serious film on the man-woman divide."
It is good news for moviegoers that the 37-year-old former US-based environment consultant is once again back making movies. Keen to make at least one movie a year, Nagesh has so far come out with Hyderabad Blues, Rockford, Bollywood Calling and 3 Deewarein. But the first one was unique, it had a flavour of its own and audiences loved its realistic approach to typical middle-class problems. Kukunoor does things which would make your average Bollywood producer blanch.
Hyderabad Blues was shot in 17 days at a budget of Rs 12 lakhs and so far, his longest shooting stint has been 36 days. "But I am learning all the time," explained the moviemaker. "You will find much more technical expertise in HB II". But don't expect glamour and slickness in the film. Like its predecessor, it is matter of fact, shot inside normal homes and not exotic foreign locales. HB II will be marketed by UTV.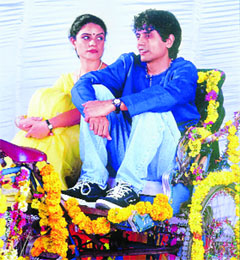 Nagesh Kukunoor and Jyoti Dogra in Hyderabad Blues II
He does not spend much time theorising. Quick action is what he wants. When a Kukunoor film goes on sets, everything is ready — the script, locations and shooting schedules. The unit members and actors can voice their views, but the director has the last word. Clothes stylishly disheveled, unruly mop of black hair, Kukunoor mirrors the 'cool', anti-slick look of his films. "Content is what matters in a movie," he asserts. "Our audiences are now quite intelligent and mature."
He is not keen on big budgets or glamorous stars. Nor is it his intention to make pots of money from his movies. Kukunoor is all for the small, meaningful, realistic cinema for which there is a definite need. "While big, slick films flood the market, there is also a niche for my films and those like Maqbool. Such films strike the much-needed balance between commercial and art cinema."
Kukunoor makes it clear he is not sitting on judgment over Bollywood. But there are things he will never do, like make a film out of a borrowed Hollywood plot, and claiming it as his own. "I am not for such remixes at all," he says.
The young moviemaker stands by family values. His is a close-knit family which has always supported his work. In fact, the role of the family was one of the key themes of Hyderabad Blues. The hero's orthodox parents, who were keen to arrange a marriage for their foreign-based son, initially grumbled about, but finally accepted his right to chose his own bride. We may see more such sentiments in HB II.