TELEVISION
Laughs can wait…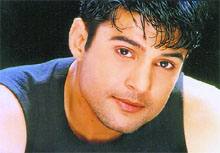 Sajid in Sab Kuch Ho Sakta Hai
Farah Khan's brother Sajid Khan will soon be making his mark as a director in a new film that he plans to start early next year.
"It's a serious film and I am signing Sanjay Dutt and Ajay Devgan. The script is ready and now we are finalising other details," says Sajid who directed an episode in Ram Gopal Verma's Darna Zaroori Hai.
Currently hosting Ikke Pe Ikka on Zee Cinema and Sab Kuch Ho Sakta Hai on SAB TV with Suresh Menon, the TV funnyman says there's a draught of comedy writers who can be consistent with their humour. "But why blame the writers. Viewers too don't laugh anymore. Give them something sad and they'll cry their eyes out. But give them something funny and they don't know how to react."
Is that why he's making a serious film? Yes, he says. "Once that's a hit and I have plenty of money to lose, then I'll make a comedy."
Ennui of endless love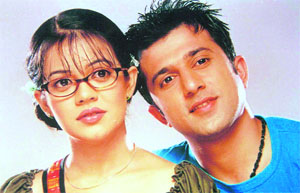 Kyun Hota Hai Pyarrr: Re-union of hearts
Is there any sense in celebrating the long run of a show when it fails to entertain in the long run? Kyun Hota Hai Pyarrr has joined the bandwagon of serials that have clocked 100 episodes and are all set to start their tired march to the second century.
The tale of young romance now moves ahead with the Greenfields College hosting a reunion of students who passed out a decade ago. The teenagers have matured and become young people. Some are rich, others famous. Though personalities and appearances might have changed in a decade but love is still in the air. Amidst all the hugs and kisses, laughter and jubilations there is one love story that is awaiting its logical conclusion.
Rahul is still in love with Tara but she's now with another man. Will Rahul ever be able to attain his love? You'll find that out in the next hundred episodes.
From smiles to yawns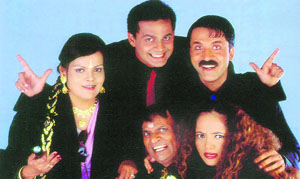 Jasoos..005: Senseless comedy
It's comedy's rule No. 1: buffoonery never gets you laughs. That's obviously a rule that the makers of Jasoos..005 on SAB TV don't have a clue about. The channel that is airing the delightful Office Office seems to have lost it. The new serial is marked by asinine performances, poor direction and a plot that is simply senseless.
It is the story of the Chakor family who in attempt to make some money set up a detective agency. And viewers are supposed to laugh at every nutty prank these sleuths pull off.
Even with reasonably good stars like Sushmita Mukherjee, Nasir Khan and Rakhee Tandon, the serial offers nothing that can even remotely be called funny. Which is not saying much about SAB TV. A few more of these shows and the all-smile channel could soon be an all-yawn channel.— NF
…but not for Sakshi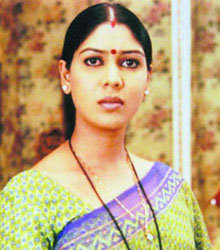 Finally she seems to be taking control of things. When she realised that her career was going nowhere with Devi and Kahani Ghar Ghar Ki, Shakshi Tanwar decided to quit both.
While, strangely enough, she's back in KGGK she doesn't seem too inclined to doing the Devi act again. The buzz is that Sakshi was not happy at being portrayed as a kind of a reincarnation of Durga in the drama so she's pulled out.
"Its been an amicable parting of ways," says Sakshi who has now been replaced by Juhi Parmar in the Ajay Devgan produced Devi.
So what lies ahead? "I'd love to do something more light-hearted, more peppy." Sakshi is serious and there's no need to laugh at her statement.
Simone's no to glycerin
Simone Singh seems to have finally banished the weepy image that she got stuck with while playing Heena in Heena.
After doing the role of a Gujju temptress in Kal Ho Na Ho, the lady is going in for a personality makeover and is accepting only upmarket assignments.
And one such assignment is anchoring The Lounge, a lifestyle show on CNBC that gives an insight into the lesser known facts about the hip 'n' happening celebrities of fashion, films and the corporate world.
She is all geared up for her new film Akoori co-starring Saif, Naseerudin Shah and Boman Irani.
— NF