ULTA-PULTA
Cool classrooms
Jaspal Bhatti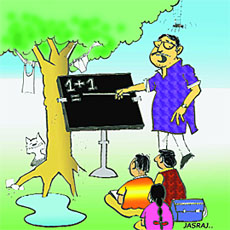 Here comes admission time. Parents are assessing various institutes for their standards, and the facilities being offered by them. These teaching shopowners, or members of management committees with big smiles on their faces, are ready with their fishnets, hoping for the big catch.
Selecting a school or college for your child has become synonymous with buying a car. While looking for a car you wonder whether you want an air-conditioned or a non AC car, whether you want a music system in it. What should be the material and texture of the seats? Similarly, most of the private schools and colleges offer different kinds of menus. You could choose between an air-conditioned hostel room or a fan-cooled room for your child. Also you can opt for a single or double occupancy. It wonít be an exaggeration if one finds a teacher charging extra fee because he is wearing an imported perfume.
Well-off students are able to avail themselves of better facilities by paying that extra bit. In the good old days, same kind of facilities and privileges were offered to all students. I recall that the son of our local MLA and I would stand on the same bench, holding our ears, when we were given punishment. Now thatís an example of socialism.
A friend of mine got his son admitted to a school and paid extra charges for "air-cooled" rooms. It was only later that he came to know that "air-cooled" meant special classes under a shady tree in the open.