On July 3, 2003, Sher Mohammad in an inebriated state said talaq thrice to his wife Najma. Later, when he realised his mistake, the couple decided to continue living together. The village community, however, objected; threw out the husband from the village and ostracised the wife. The issue, which has raised a public outcry, remains unsolved even a year later. Bibhuti Misra reports.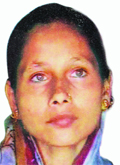 Najma: Ostracised by her village
Miyan bibi razi phir bhi taang adaaye kazi. This twisted version of the well-known saying Miyan bibi razi to kya karega kazi (If the man and woman are willing then what is the role of the priest?) sums up the unfortunate situation Najma and Sher Mohammad find themselves in today.
Sher Mohammad, who belongs to Nanga Mohalla village in Bhadrak district of Orissa, had married Najma, the only daughter of Mumtaj and Nasima Biwi of Kantabania village, in 1992. Sher Mohammad stayed at his in-laws' place after marriage as ghar jamai as Najma had no other sibling. Life was going smoothly for them and Najma bore him four children in 11 years. But on July 3, 2003, Sher Mohammad had a drunken brawl with his wife and in an inebriated state shouted talaq thrice. Later when the effect of liquor wore off, he realised his mistake and with mutual consent, the couple continued to live together. "Neither my mother nor I heard him shout talaq since we were inside the house and it was not clear. But the villagers told me that he had given me talaq and we couldn't stay together. But my husband said he was angry and drunk and he did not remember what he had said," says a woebegone Najma
The neighbours were not happy. They had heard the man shout talaq and for them the marriage had come to an end; hence they considered it immoral and illegal for the couple to stay together. Led by the mohalla chief Bhallu Sardar, they roughed up Sher Mohammad and drove him out of the village, much to the chagrin of his wife. "We pleaded with them to solve the problem but Bhallu told us that it could not be done immediately and might take even a year," say both Najma and her mother.
The two women were left with no alternative but to approach a maulana of the nearby Dhamnagar with the help of an NGO, Ashiana. After hearing the case, the maulana ruled that the divorce was not valid, as talaq had been uttered in an inebriated state. So the couple were back in Kantabania village as husband and wife.
That should have been the end of the unfortunate case; but it was not. After a fortnight, Bhallu, this time accompanied by a few ruffians, showed up again. Says Nasima Biwi, "They abused us and forcibly took away our son-in-law, saying that since talaq had taken place it was a sin for Sher and Najma to live together."
The community, represented by Chauda Mohalla Muslim Jamaat got into the act, and moral policing started in right earnest. Its president Shaikh Abdul Bari referred the matter to Mufti Shaikh Qasim of Dhamnagar, who ruled that the talaq was valid.
Meanwhile, the issue was taken up by the National Commission for Women (NCW) and the State Commission for Women (SCW)
On November 6, 2003, an agreement was signed in the presence of the Chairperson, SCW, and the Chauda Jamaat was entrusted the responsibility of finding a solution for the problem. But the Jamaat issued a four-point fatwa that decreed that the couple could not live together as they were no longer man and wife. Sher was debarred from entering the village. He could, however, send money to his family through some emissary and he could meet his children only if his parents brought them to him and later took them back to the mother.
The matter was taken to family court in Cuttack, which ruled that the couple could live together. The villagers, however, were unrelenting.
The NCW sent a five-member inquiry team on May 21 to the village. The team tried to reason with the people of the community that talaq uttered in a drunken state was not valid, but the community stuck to its position.
But all this 'outside' interference only enraged the Jamaat, which felt that such interference by outside agencies in matters concerning Muslim Personal Law would not be tolerated. They took out a silent procession in protest on June 3
The SP, Mahendra Pratap, tried to solve the problem too but he was handed a nolle prosequi. The police, which has registered cases against some persons, is wary of taking them up as it fears that that might fuel communal tension.
What is the way out for Najma?
Local Muslim leaders say that she could exercise the option of halala, which means she has to marry another person who would issue talaq to her; only then could she remarry her husband. However Najma is unwilling to do this and, in desperation, she has threatened to commit suicide if she is not allowed to stay with her husband. "I will give poison to my children and take poison myself if I am harassed further," she says.
There was talk of referring the matter to a third 'mufti' and seek his opinion. But Najma says that it could be referred to Muslim organisations at the national level but again bring varying opinions from different people. The matter remains unsolved for almost a year now. Ostracised from the village and not allowed to draw water from the village well, Najma is losing all hope. "My husband wants to live with us and take care of the family but is not allowed to. Our sufferings have been increasing every day," she laments, desperation showing on her face. Tapasi Praharaj of the All-India Democratic Women's Association has got a hand-pump installed in her house to help the family tide over the water problem. The Red Cross has given them Rs 1000 and even her husband had sent Rs 500 through an emissary. The family is blessed with love and tenderness but the community is bent on fanning hatred and ripping the unit apart.
Abdul Bari, a key player of the Jamaat, does not agree that the community is playing a villainous role. "All the outside interference has complicated the matter. In religious matters, interference is highly undesirable. It hurts our religious sentiments. Nafisa Hussain, who was in the NCW team, said that she had read Muslim Law; but I doubt it. We will sort it out according to our edicts. We are not interested in making it a law and order problem."
But till now nobody has a clue as to how the problem should be sorted out. And what about Sher Mohammad whose drunken indiscretion resulted in a nightmare for him and his family? He is under tremendous pressure and is scared after being 'punished' by the villagers for living in 'sin' with his wife after talaq. He lives in his own village and tries to help his children by sending whatever he earns from doing odd jobs. But his wife is all sympathy for him: "He wants to be with us. I can understand his agony."