Rahi's work for Conference of World Religions
Aditi Tandon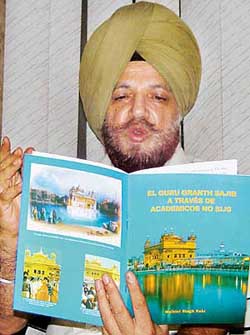 Dr M.S. Rahi reads out passages from his book on the Sikh religion, which will be released at the Conference of World Religions, to be held at Barcelona between July 7 and 13. — A Tribune photograph
City-based author Dr Malkiat Singh Rahi will have his share of fame at the International Conference of World Religions, to be held at Barcelona from July 7. Regarded as a significant piece of literature, his book titled "Guru Granth Sahib in The Eyes of non-Sikh Scholars" has been translated in two foreign languages for the purpose of release and free distribution at the forthcoming conference. About 20,000 copies of his book have been published by UK-based organisation Guru Nanak Nishkam Sevak Jatha, and out of these 5000 each are in Spanish and in French language.
Written to coincide with the fourth centenary of the installation of Guru Granth Sahib, the book is not just a plain document on Sikh religion. It has been well researched with the world readership in mind. Deliberately excluding the Sikh writers, the author has featured in his book the views which legendary foreign historians and philosophers like Mohsin Fani J.D. Cunningham, Macauliffe, Pearl S. Buck. J.C. Archer et al have about Sikhism.
Talking to The Tribune in the city today, Dr Rahi said, "This is the second edition of my book, earlier published in December 2003. Now about 20,000 additional copies have been published in two different languages. By September this year, copies of this book in all other languages of the world will be distributed all over. Immediately we will have translations in German and Italian. The book caters to the needs of non Sikhs, who will be able to relate to Sikhism better, when explained in terms of what great philosophers had to say about this world religion."
The latest version of the book contains writings of 37 internationally known historians and philosophers. On each book of the page, an idea or a thought from Guru Granth Sahib has been lifted and printed to enable people to connect immediately with the ethos behind the religion.
Says the author, "Every such idea is in some way or the other is representative of the Sikh religion. I have focused primarily on foreign writers and their interpretation of Sikhism because I wanted to have an unbiased document, which offers complete insight to someone who is reading about Sikhism for the first time. The earlier book had no subheads. Now I have recorded versions of various writers under various heads. I have also talked about the context in which philosophers have written about Sikhism. Someone calls it an expression of man's loneliness, while others think Sikhism is a universal and practical religion."
A writer of four books, Dr Rahi has also been the founder member of Penal Reform and Justice Association, headed by Justice V.R. Krishna Iyer, former judge of the Supreme Court of India. Dr Rahi is also involved in contesting litigation against distortion of history and culture of the Sikhs in the school history books in India. — TNS