PUNJAB
HARYANA
JAMMU & KASHMIR
HIMACHAL
REGIONAL BRIEFS
NATION
OPINIONS
MAILBAG
BUSINESS
SPORTS
WORLD
M A I N N E W S
Season of suicides takes its toll in Southern Punjab
Chitleen K. Sethi
Tribune News Service



Moonak (Sangrur), July 4
Less than a fortnight ago, Bhagwan Singh, 38, a "landlord" of Gobindpura Jawaharwala, a village in southern Sangrur, tried to kill himself.
Using a method followed by many before him, he took a large swig of pesticide he used in his fields. His wife was ill and he was forced to sell off his last acre of land to pay back Rs 1.20 lakh to arhtiya.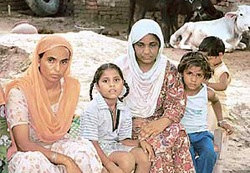 Bhagwan Singh's wife (right) and children at Gobindpura Jawaharwala, Lehra, Sangrur.

Once an owner of six acres, he could not bear the loss. Back from hospital, Bhagwan Singh dreaded working on someone else's farm. His suicide attempt did not clear him of his debt; he still has to pay Rs 35,000 along with a monthly interest of Rs 700. With a sick wife to look after, three children to feed and debt to pay out of a monthly income of Rs 3000, Bhagwan Singh is confused whether God was kind or cruel to have saved him.
Punjab — the land of plenty is a dream that appears to be nearing its end. According to an independent report, as many as 210 farmers have killed themselves in the past three years in Sangrur alone, seven of these in the past one month.
Darshan Singh, 35, from the same village remained admitted to Christian Medical College, Ludhiana for a week following a suicide attempt. A class IV employee of a cooperative bank, his friends in the village say he had an argument with his elder brother over land ownership and decided to kill himself.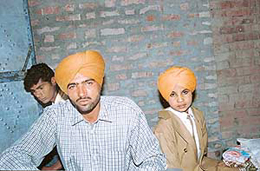 Twentytwo-year-old Sukhbir Singh who killed himself in Lehal Kalan village, Andana, Sangrur. — Photo by writer
On May 11, Sukhbir Singh, a 22-year-old unmarried youth of Lehal Kalan village, killed himself, seemingly for no reason. He, too, took pesticide and collapsed. In a state of dizziness, he asked everyone in the family for forgiveness and died on the way to hospital. He did not have any problem, says his father, Mr Raj Singh. "I am the one in trouble. I have to pay a loan of over Rs 9.30 lakh. I own only four acres of land. I don't know why the boy took it to heart."
It is the onset of the 'season of suicides' in the southern districts of Mansa, Bathinda and Sangrur. It is the end of wheat harvest and the sowing time for paddy. A marginal farmer who did not or could not save for the sowing operation is stressed. Sitting at scantily filled tail-ends of irrigation system, he looks skywards: the mood of rain gods affects his pocket significantly. And cotton growers in this belt (Lehragaga, Sunam, Barnala, Sehna, Mehalkalan) pray that the American ball worm-spares their crop.
"The land holdings have been going down at the rate the population has been growing. The small farmer here does not have the capacity to ride through a season of lost crop, which comes every five to six years. Sometimes there is no rain; the cost of diesel for tubewell takes its toll. On other occasions, heavy rains in Himachal and Patiala make the un-channelled Ghaggar river play havoc in this area," says Mr Sarvjit Singh, Deputy Commissioner, Sangrur.
For hand-to-mouth marginal farmer, a tractor or a daughter's marriage is all that takes to get caught in the juggernaut of commission agent (arhtiya). "Land is sold acre-by-acre till stripped off everything, the had been landlord' is forced either to work as farm labour or to opt for a respectable death," points out Mr Hardayal Singh, Sarpanch, Bhutal Khurd.
The district administration may have laid out long-term solutions to the problem, but for the time being, the southern Punjab farmer continues to suffer in obscurity.