Job hunting, the cyber way
Shveta Pathak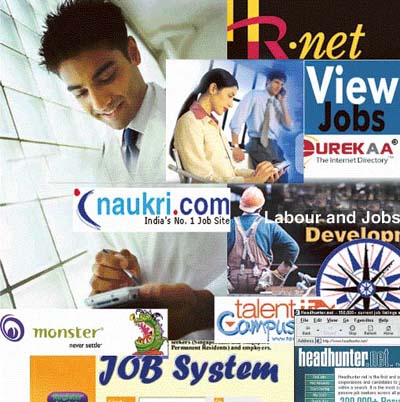 SCOUTING for a dream job? Muttering silent prayers, hoping to wrangle the best deal with a six-figure salary and a duplex apartment thrown in? Or are you just keeping your fingers crossed, till they ache and the knuckles show, fervently hoping for headhunters to amble along and roll the red carpet for you?
Well, this need not remain just a pipedream. Whatever your wish list, regardless of whether you are a fresher, a middle-level cog in the wheel or a senior management executive, your dream might just come true, and that too at the click of a mouse.
With leading job portals in India notching an average of 60,000 postings every month, a growth of 100 per cent per annum, job hunting has become much simpler and speedier.
The President and MD, Monster Asia, Arun Tadanki, puts the trend in perspective: "Not only do job portals provide one with a diverse database in terms of the fields that are covered, but one can also look for options in every nook and corner of the globe."
Now, one need not wait for the weekly 'Appointments' page in the print media. All you have to do is visit a job portal and search for 'your cup of tea' from among the roughly 60 categories that are listed and further sub-categorised.
You could be looking for a placement as a web designer or a copywriter, a fashion photographer or an aeronautical engineer, or something as bizarre as a florist. It could be a full-time job or part-time. Perhaps, you are a househusband or a freelancer who wants to operate from home. The companies can also be looked up depending on what is up your street. You can even pin the options down to any city, from Ludhiana to Los Angeles. The possibilities are endless.
Maximum hits
Job portals score the maximum hits in a cyber caf`E9. This is largely due to the stupendous increase in the number of Internet users. While naukri.com -- which claims to hold over 50 per cent of the market share in India -- greets an average 55 lakh visitors per month at its site, Monster India 39 lakh, and Jobs Ahead nearly 26.5 lakh. The USA, of course, heads the pack when it comes to scouring job portals for overseas prospects, followed by the Gulf and South-East Asia. India is no laggard either and the expansion plans of the job portals bear testimony to this. Monster India recently took over Jobs Ahead, a synergetic move, which is sure to open new vistas for job seekers.
A cost-effective option
It is not just job-seekers who are knocking at the doors of the portals. The number of companies scouring for talent on the sites is swelling by the day. Explains Hitesh Oberoi, Head, Sales and Marketing, naukri.com, "The number of companies that advertise with us has increased from 6,000 last year to 10,500 this year." Monster and Jobs Ahead together are adding nearly 200 companies every month to their list of clients. Oberoi says this is because advertising on portals is more cost-effective. "It would cost a company just Rs 499 to advertise on naukri.com, which is quite affordable even for a small outfit. And the reach it gives the client is stupendous, his message is reaching job markets as diverse as Chicago and Chennai.'' Result: The cost is spread out, which is just not possible in the print and the electronic media. Adds Tadanki: "Now even a single entrepreneur can advertise for a job on a site."
Not just head-hunting
Getting the right response, keeping in mind your latent talent, is no longer just a matter of forwarding the application with a covering letter. A host of factors -- the right resume, interaction with the company prior to the interview, the interview board, communication skills, etc influence upon your selection.To meet these requirements, job sites offer you an array of free and paid services.
You can have your resume, along with the covering letter, penned from experts. You can appear for mock interview sessions online. Or if you are confused about the dress that you should wear for the interview, the portal has the answer for it.
Add-on services
Resume writing (mostly a paid service): Apart from getting your CV and covering letter handled by experts, the portals also offer services like forwarding your resume to, say, 1,000 placement agencies in India. The sites charge between Rs 600 and Rs 2,500 for expert resumes.
Placement directory: One can get a complete directory of leading placement consultants in India as well as abroad.
Expert write-ups: There are articles on job-related topics, be it salary negotiations or dressing up for the interview.
Preparing for the interview: Apart from write-ups from experts, you could go in for mock interview sessions online.
Newsletters: The users are showered with weekly and monthly newsletters.
Most popular portals have their in-house salary, resume and interview centres and employer profiles; they even offer consultancy services.
Customised categories
There also are special categories. For instance, naukri.com has a separate section on IT-enabled services, where it discusses the spectrum of ITES, responsibilities of inbound and outbound call centre personnel, application areas, generic skills that are required, and various other features. It also has a separate e-campus zone. Besides, one can look up information on the latest books on jobs and careers.
Jobs abroad: Monster India provides information on job trends around the world, advise on relocation and visa tips. It has a special section on job hunting in the USA. Explains Tadanki, "Since the USA is the most popular destination among skilled workers, we have this special section." One can tap the sites for information on overseas employment issues: how to tackle the paperwork, on seeking the embassy's help and also relocation packages and the salaries abroad. With things having been made so simple, portals appear to be the right choice for every job seeker.
But does that mean one gives up the age-old habit of browsing through the Appointments pages?
"No", says Oberoi. "One must glean information from whatever sources one can. You never know when opportunity comes your way."
'Just-in-time' recruitments
While the 'Appointments' page in the print media and job portals remain a popular job hunting turf, an increasing number of Human resource (HR) consultancy organisations are emerging as an attractive third option.
Though HR agencies are mostly providing outsourcing solutions to corporate and non-corporate clients, they provide free services to individual candidates as well.
"We have a diverse customer base and our aim is to provide the right kind of candidates to the clients, for which we rely on the data available online and through referrals or resumes forwarded by the candidates," says Gurdeep Hora, Director, Synergy HRD Consultants Private Ltd.
Companies are increasingly going in for outsourcing of their HR requirements, which is cost as well as time-effective.
A job-seeker, who forwards his resume to such a company, is not required to pay anything. One should approach an HR agency depending upon its expertise: there are a few catering exclusively to the IT and telecom segments and others concentrating on middle and senior-level management jobs.
The resume thus forwarded is stored in the company's database and the candidate is contacted as and when a suitable vacancy arises. The additional services offered by these companies render them a better option compared to placement agencies, which make a candidate pay through the nose.
"Since we have specialised departments handling various aspects relating to HR, personal interaction gives us an edge over job portals," claims Snehansu Patra, Senior Consultant, Strategic Management Consults.
The HR agencies are on a constant lookout for candidates to provide solutions to their clients in the shortest possible time. For instance, Elixir Web Solutions focuses on "just-in-time" recruitment. According to the company website, it has helped zero in on senior-level searches within 15 days of getting the mandate. Go ahead, an HR agency could well land you that dream job. —SP