OFFBEAT OPTIONS
A window of opportunity
Window dressing is fast coming up as a lucrative career choice for those who wish to be self-employed. The new breed of visual merchandisers are much in demand in shopping plazas, fashion boutiques, emporia and at exhibitions. Even five-star hotels hire these professionals to decorate their lobbies and French windows during festival time, writes Manish Kumar Singal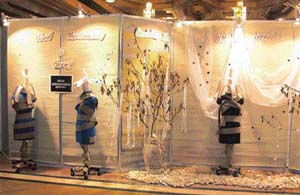 Window art: Dressed to skill
IN New York, at Christmas time, revelers can be seen standing in serpentine queues all night, fidgeting from one leg to another in the biting cold, jostling for a glimpse of bedecked windows, the straining mannequins and the stunning props.
But one need not venture as far as New York to feast one's eyes on mesmerising creations in showcases; the footfalls in our native shopping malls seem to indicate that we too are turning into a nation of window shoppers.
The zest is easily explained by the increase in disposable income, the desire to splurge rather than save, the lifestyle changes fuelled by consumerism and the boom in retail marketing. And these, in turn, have opened a window of opportunity for those interested in visual merchandising (window dressing for the uninitiated).
This new breed of interior decorators are in demand in upmarket shopping plazas, fashion boutiques, emporia, shopping malls, eateries, exhibitions and fairs. Even five-star hotels hire professionals to decorate their lobbies and French windows on Divali, Holi and Christmas.
The owner of a showroom in Ansal Plaza explains the psychology of a window shopper: "You can tell about a store from the window. The display of the merchandise rivets his attention, entices him into the showroom, into the maze of products that are seductively arrayed to break down whatever resistance that remains. From here, the salesperson takes over. But half the job is done.''
Window dressing is for those with a creative flair and an instinctive feel for interior decor. The window becomes the canvas: the space is small, but the professional reworks these spaces and infuses life into every nook and corner. Even small details become important. A professional, therefore, must have an eye for minute detail.
But, on a mundane plane, does it not mean merely assembling props to attract customer attention, keeping in mind the display the client wants, and maintaining the mannequins? Responds Rishi Raj, a visual merchandiser: "These days, window dressing is not just about constructing and maintaining props and mannequins. It is about being familiar with the latest methods of merchandising and using the tools to give the window a look consistent with the brand message. It is, therefore, more about visual marketing and advertising.''
Window dressing is fast coming up in the metros as a lucrative career choice for those who wish to be self-employed and prefer to work on either a retainer or contract. Designing and drawing skills, familiarity with woodwork, metal and other materials and the ability to think visually in terms of the store layout are some of the prerequisites. ``Most showrooms prefer to hire full-time shop/floor/window managers with strong marketing and advertising skills,'' says Rakesh Batra, who owns a fashion boutique in Karol Bagh. He adds: ``There have been instances of professionals who started on the floor and reached the top to manage the company.''
The JD Institute of Fashion Technology was the first fashion institute to introduce a full-fledged specialised course on visual merchandising (window dressing). The course focuses on the creative and strategic aspects of window dressing, to facilitate the development of a clear vision and lateral thinking for effective implementation of design principles, depending on the ambience, available space and the nature of the product. "By breathing life into space you create a subtle marketing tool," explains Rishi Raj.
According to R.C. Dalal, Executive Director, JD Institute of Fashion Technology, "Window dressing could become the hottest profession in the next five years as all new shopping malls and boutiques are hiring professionals.''
But are the assignments regular? Says Vineeta Kochchar, a visual merchandiser, "Given that window displays need to change regularly and acquire the 'theme look' on festivals, there is no dearth of work. In metropolitan cities, big shopping malls redesign their windows every week. This is because the customers flock to the showrooms on weekends.''
She adds: "It is not just about window dressing any more, it is actually about helping generate sales. A professional, therefore, should be able to liaison with the staff and the client.''
As far as the moolah is concerned, a window dresser may charge between Rs 3,000 and Rs 5,000 for a medium-sized (5 X 5) window. In these days of retail boom, a professional may get to do 10 windows per month.

In a store with a layout of 10,000 sq. feet, the cost might go up to Rs 30,000 to Rs 50,000.
Even good interior designers can't resist the temptation of doing a window job.