Fashion your future behind the lens
Fat salaries, foreign jaunts, the opportunity to scale dizzying heights and rub shoulders with the bold and beautiful. All these make fashion photography one of the most sought-after professions. But there's more to it than just clicking pretty faces.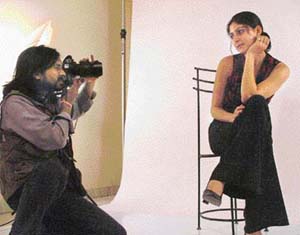 Fashion photography: A lot of grind behind the glamour
FASHION photography is all about creating a wardrobe of desires, capturing a fleeting moment and etching it eternally in the recesses of your mind, giving it almost a lyrical quality. Fanning the desires and "seeking out the voyeur" in all of us is the man behind the shutter.
To that extent, a fashion photographer is an artist. His canvas could be an exotic locale in the Maldives or the Seychelles, his subject a Manpreet Brar or a Sushmita Sen, his audience highbrow and well-heeled, and his tools — a camera, an array of lenses, tripods and giant umbrella-shaped flash canopies. The fat salaries, foreign jaunts, the chance to scale dizzying heights and mingle with the bold and the beautiful. All these make fashion photography one of the most sought-after professions.
But a fashion photographer's job is not just to click men and women on the ramp and make them look beautiful. Says Akhil Bakshi, the most sought-after shutterbug in Delhi, "It is not about picking a camera, asking the model to strike a pose and setting the aperture. There are techniques for taking glamorous pictures. A fashion photographer must understand garments, how colours blend, how lighting works and draw the best out of his subjects."


Where to learn
Many institutes in the Capital are offering short-term courses in fashion photography such as J.D. Institute of Fashion Technology, National Institute of Fashion Technology, College of Art, which is affiliated to Delhi University, and Bharatiya Vidya Bhavan.
Elsewhere, the National Institute of Design, Ahmedabad, the JJ School of Art, Mumbai, the Film and Television Institute of India, Pune, the Academy of Photography, Rabindra Bharati University, Kolkata, are the other big institutes offering similar courses.
He elaborates: "For different dresses, a different combination of light and background is needed and this knowledge comes with experience. If the light and the background are not right, even a picture of a beautiful model in an attractive dress can look jaded." A fashion photographer, therefore, must have a vivid imagination, a sharp eye for detail and the acumen to play around with lights and shadows.
"Moreover, a photographer should be very quick on the uptake. It is a game of split-second. You may get just a moment to click a fleeting pose. If the moment passes, you may never be able to capture it again," says Akhil. Another expert who has even authored a book on the subject reinforces this view: " Today, fashion photography is more about innuendo, It captures the mood, the moment."
But before a fashion photographer can carve a niche in advertising, art photography or celebrity portraiture, he has to invest in a good studio. "Even in these days of digital technology, a high-tech camera and accessories can cost a few lakh. Colour screens, tripods, flash canopies and outdoor shooting paraphernalia are indispensable."
However, such an investment can wait till you have had professional training at a reputed institute, followed by a three to five-year stint with a professional photographer.
The first assignments that come one's way are often portfolios: the clients are mostly aspiring actors and models. But one can handle portfolios only if one knows the techniques of presenting and marketing the photographs. These days websites offer photographers an inexpensive medium for showcasing their portfolios. From portfolios one can graduate to doing assignments for designers, modelling and advertising agencies and fashion houses. Once you have made a splash, the medium is no longer an inexpensive website but a glitzy art gallery, haute couture fashion houses or, if you are among the lucky few, even the F channel. The same applies to remuneration.
While portfolios fetch good money, the pot of gold lies at the end of the rainbow, once you are recognised as a professional in the field. An initial start of Rs 20,000 a month can balloon into a whopping Rs 1 lakh a day.
A designer, who has worked with top fashion photographers in the country, puts the growth of the segment in perspective. He says: "Fashion photographers in India are basking in limelight ever since the Sushmita Sens, the Lara Duttas, the Manpreet Brars and the Priyanka Chopras sashayed down the international ramp. Top-drawer designers like Ritu Beri and Rina Dhaka, in turn, have given Indian outfits and motifs a certain acceptance in the international market. Another factor has been the unprecedented growth in the apparel and garment sector. Today, one finds boutiques run by small-time designers even in mofussil towns.
Adds Alkhil, "With global brands making a splash in India, the tribe of fashion photographers is increasing by the day. These brands can't do without the latter as they need to advertise in the electronic and the print media."
He, however, laments that a number of photographers are amateurs. They, in turn, give the fraternity a bad name in the international market. He, therefore, underscores the need for professional courses.
According to R.C. Dalal, Executive Director, J.D. Institute of Fashion Technology, "There are a number of institutes in Delhi, Chandigarh and Punjab that are offering courses in photography, but only a few are enrolling you for fashion photography. However, with the demand for professionals in the field increasing, many institutes are offering a specialised course focusing on both photography as well as fashion technology."
Besides Akhil Bakshi, Tarun Khewal, Anand Seth, Hemant Khandelwal, Nitin Upadhyay, Vikram Bawa and Gautam Rajdaksha are some of the big names in fashion photography.
Shishir Srivastava, another top professional, has a divergent view. He says that there was a time when cameras were quite primitive and needed deft handling. Only experienced professionals could handle those contraptions with good results. But today, with sophisticated digital cameras available in the market for as less as Rs 20,000, fashion photography has become a worthwhile option for anyone with rudimentary skills.
— MKS