Puberty brings its own problems
by Dr Meenal Kumar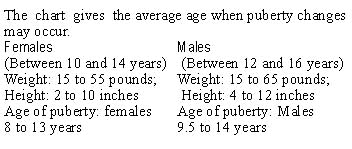 At puberty, a girl will see the maximum growth in height and weight. Changes with puberty may occur gradually or several signs may become visible at the same time. Some adolescents may experience these signs of maturity sooner or later than others.
Each girl experiences puberty at her own time. Some delay or variation in growth should not cause anxiety.
As an adolescent person nears puberty, the pituitary gland in the brain increases the secretion of a hormone called follicle-stimulating hormone (FSH). This hormone then causes additional effects. In girls, FSH activates the ovaries to start producing estrogen.
Each girl is different and may undergo through these changes differently. Do not get worried if you find that another girl of your age has developed breast or pubic hair while you have none.
There may be not only an increase in height and weight but also the hips may get wider and the waists get smaller. There may be an increase in fat in the buttocks, legs and stomach.
The body size will increase, with the feet, arms, legs and hands sometimes growing faster than the rest of the body. This may cause an adolescent girl to experience a time of feeling clumsy. As the hormones of puberty increase, adolescents may experience more sweating with oily skin.
It is important to wash the face daily, otherwise acne may develop. Menstrual periods begin when the body releases an egg from the ovaries. With an unfertilised egg, the tissues inside the uterus are not needed and are shed through the vagina as menstrual fluid.
Studies have found that most of the adolescents are ill informed about sex and sexually transmitted diseases. Talk calmly and honestly about safe sex. Listen to your adolescent and answer his/her questions honestly.
Have annual PAP and pelvic tests done without hesitation. Consult your physician if you have bleeding between periods or missing periods, frequent and urgent need to urinate, burning sensation during urination, abnormal vaginal bleeding, pain or pressure in pelvis that differs from menstrual cramps, itching, burning, swelling, redness, or soreness in the vaginal area or any other such problem.
The writer is a Chandigarh-based gynaecologist and author of "Better Health after Menopause".