Bollywood chases the young
Bollywood has been bitten by the youth bug. There are as many young movie-makers as there are fresh new actors. Innovative scripts cater to the younger lot and unflinchingly explore the grey areas of life. Lively music, a must for such flicks, more often than not sets the cash counters ringing, writes V. Gangadhar
THE Farooque Shaikh-anchored TV show Jeena Isi ka Naam Hai on director Farhan Akthar on Zee Channel gave the impression that one was watching a collegiate. Farhan, with a bandanna and his fuzzy hair tied up, looked like a teenager. But Akthar, 29 in real life, is now one of Bollywood's hotshot directors with both his films, Dil Chahata Hai and Lakshya, winning critical acclaim.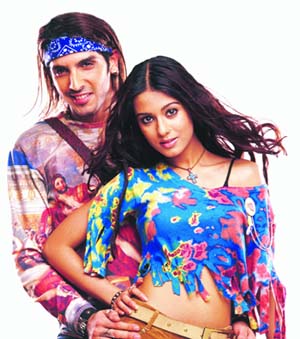 Time magazine devoted an entire page to Bollywood's whiz-kid director. The feature by Alex Perry gave a clue to how the director worked. While the casting was on for Lakshya, star hero Hrithik Roshan went to Akthar's home to discuss his role, that of a patriotic army cadet and later an officer. Time quoted Hrithik. "The meeting lasted just two minutes. Farhan said, 'I want you to be you. Nothing more, nothing less.'" And Hrithik managed to outshine even Amitabh Bachchan in the film.
Lakshya, of course, was nothing like Dil Chahata Hai, essentially a film for the youth that centred on three young men and their love lives. Its success did not turn Farhan's head, who refused to be typecast and do dozens of similar films. "It is a Catch-22 situation," admitted Farhan. "Had I done four films of the Dil Chahata Hai kind, I may have made money but people would have thought I could not handle other kind of films." But then Farhan is of a different pedigree. Son of lyricist and poet Javed Akthar, he has written lyrics for Gurinder Chadda's film Bride and Prejudice. Most other youthful and not-so-youthful directors in his place would have grabbed scripts which were frothy, fun and dealt with affairs of the hearts of the young.
Mind you, Bollywood is now flooded with films such as Main Hoon Na, Koi Mil Gaya, Ishq Vishq Pyar Vyar, Kaho Na Pyar Hain, Hum Tum, Har Dil se Pyar Karega, Masti, Mein Prem Ki Diwani and Uff Yye Mohabbat Hain. Not all these clicked at the box office. But the resounding success of a few prompted Bollywood producers to join the rat race. Stories were specifically written for the youth, more and more chocolate-faced heroes and nubile young girls were being tested for lead roles.
"I don't see anything wrong with the trend towards youth-oriented films," explained producer-director, Rakesh Roshan whose two recent films were about youth and love. Kaho Na Pyar Hain was an unabashed romance with two young fresh faces, Hrithik Roshan and Ameesha Patel. Embellished with an outstanding music score, and shot in picturesque locations in New Zealand, KNPH shook the box office and won all the available awards. So did its successor, Koi Mil Gaya, which was more a fun film with an alien thrown in. "My films are meant for the youth, but they provided enjoyment to all kinds of audiences," observed Roshan Sr. "Yes, youth power has come to stay in our cinema."
Standing outside the Gaiety-Galaxy theatre complex in Bandra, Mumbai, executive director Manoj Desai agrees. "We are happy that Hum Tum, running in our complex, is a big hit. And the 90 per cent of the audience comprises teenagers and college students. It is the youthful audience which is calling the shots in the Hindi film industry." In cities like Mumbai, the youth have a lot of money to spend. Nineteen-year-old Atul, in his second year in college, admits he spends Rs 400-500 per film along with his friends. "The multiplex tickets are expensive, from Rs 100 onwards. Then we have snacks, play a game of pool and also visit cyber cafes in the complex," he explains.
The urban elitist youth of today have no time to understand the Common Minimum Programme of the present government. Their CMP is about having a good time and spending lots of money. "It is not that all films we watch are good," explains Divyani Kamath, a 21-year-old. "But films with youthful zest appeal to us. We identify with the characters and most such films do well."
What does today's youth-oriented Hindi cinema stand for? The most important theme, is, of course love. That is love handled the 21st century way. There is neither any room for a Dilip Kumar moaning and singing sad songs over his ladylove nor any space for dejected lovers committing suicide because of parental opposition, as witnessed in Ek Duje Ke Liye. Today's screen couples set their own rules and decided their own future. Why did a film like Saathiya click in a big way? Explains a regular moviegoer, 21-year-old Ashish, "We enjoyed the scenes where Vivek Oberoi was chasing Rani Mukherjee. They defied their parents and got married. The film had its serious and tragic moments. But then this is a part of life. What you must understand is that our generation appreciated the hero and the heroine deciding to get married on their own."
Comedy, tragedy or musical, the lead pair must decide its own life and face the consequences. Slowly, the youth-centred films are evolving their own image and getting rid of clich`E9s. Mind you, this is not an easy job and the transition can be painful. For each successful film, there are two or more flops. Look at a recent list — Mein Prem ki Deewani, Uff Ye Mohabbat Hai, Har Dil Se Pyar Karega, Rehana Hain Tere Dil Mein and so on. These films failed to click because of poor scripts and stereotyped approaches. Even the big production houses like the Rajashri's stumbled. Mein Prem ki Deewani was an expensive remake of an earlier, simpler, beautifully made film called Chit Chor. The changes made in the story did not jell and the film flopped.
Good, pulsating music is a must for this genre of films. With the music industry well entrenched, much of the success of these films depends on how the music is marketed. With every boy and girl carrying gadgets which play music, a film's success is assured if its music is a hit. Says Anu Malik, well-known music director, "Today's youth knows its music. They demand high standards and lots of variety. Today's music standards have become universal."
Star power, of course, has its own special pull on youthful audiences. That is why filmmakers have been introducing dozens of new faces. But the older ones too do not surrender their places so easily. Shah Rukh Khan is in his late 30s but takes every precaution to preserve his youthful image. His role in Main Hoon Na tried to keep his youthful image intact. He not only indulged in athletic, acrobatic dances but was also shown attending college. Not be 'outyouthed', Hrithik Roshan played a school student in Koi Mil Gaya. While leading men like Sanjay Dutt, Salman Khan and Sunny Deol spent long hours in the gym, developing and preserving muscles and learning new dance steps, the search for eternal youth goes on.
On the Hindi screen, we remember Dev Anand not for his acting skills, but for his youthful image, and for spawning fashion trends like of the hat he wore in Jewel Thief. Our young audiences brought up on MTV and other international channels, also seem to appreciate today's youthful film heroes and heroines for taking on roles which were taboo in the past. No one blinked at the explosive love scenes in Jism or Murder. The audiences were not shocked by the lesbian theme in Girl Friend till the political parties like the Shiv Sena entered the scene. The young audiences are ready to accept the grey areas of life. While admiration for well-made films with youthful themes has been on the rise, films with a good story line and excellent acting can never be written off. Why did films like Khakhee and Baghban succeed?