Lending wings to her dreams
Kanchan Vasdev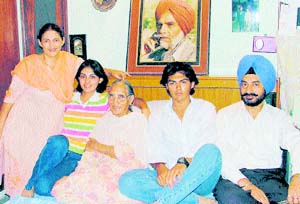 Ravina Sandhu with her family
RAVINA Sandhu is the only girl from Punjab to make it to the armed forces as a pilot this year. With three generations of her family in the Army, she — the fourth generation — carries the baton forward by joining the Indian Air Force.
When she cut out a picture of an aircraft from a magazine for her scrapbook as a 10-year-old, little did Ravina know that one day she would get an opportunity to soar like a bird in the skies. Since that day, this Ludhiana girl's love affair with the flying machines grew by leaps and bounds. Her fascination for airplanes eventually transformed into an obsession to fly the fastest of the flying machines. Today Ravina is at the Indian Air Force Academy in Hyderabad, trying to come to terms with the nitty-gritty of a Flight Cadet's life.
Ravina declares with pride: "My grandfather Major Jagir Singh Kokri, Vir Chakra and Mention-In-Dispatches, was a highly decorated soldier. He followed in the footsteps of my great grandfather, the late Havildar Mangal Singh, the first member of our family to join the Indian Army. My uncle, Major Amarjit Singh and my father Col R.P.S. Sandhu have also been a source of inspiration for me. I had decided I would make my career with the IAF. And I have done it.''
Feeling on the top of the world, this engineering graduate from Guru Nanak Dev Engineering College, Ludhiana, had to convince her parents, especially her mother, that she was grown up enough to choose a career for herself.
Her mother, Dr Pushpinder Sandhu, a Professor in Home Science College, Punjab Agricultural University, Ludhiana, has this to say: ''I am a mother and I had my own fears and apprehensions. Though it was little difficult for me to let her go, I finally discovered that she was mature enough and whatever she had decided for herself was fine. Today, I feel she has done me proud.''
The bubbly and determined Ravina quips: ''I had chosen my goal myself when I was still in school. I took admission in engineering, for knowledge of physics was essential to be a pilot. I kept moving towards the goal and finally achieved it.''
''My parents always encouraged me to read books, meet people and have my own ideas about life. They never obstructed me in any way. I will leave no stone unturned to make them proud of me,'' she adds.
Her scrap books, which she maintains till today, carry cut out pictures of Harita Deol, first woman pilot of the IAF, famous NASA astronaut Kalpana Chawla and supercop Kiran Bedi. She drew inspiration from these women and decided she would match up to them in all respects.
This beautiful Flight Cadet, who takes life as a challenge, plans to find a life partner who has a golden heart, is a perfect person, a good human being and "touches her heart". ''He may not be from the armed forces. He can be anybody. I will like him for whatever he will be,'' she adds.
Col. R.P.S. Sandhu, at present posted at Ferozepore, had seen her grit and determination as a child when she used to tell him ''I will fly an aircraft one day.'' At that time he had not taken her seriously but today, when he looks back, he realises that his daughter will go a long way.
''I know she is capable of doing anything. She can be a success anywhere. And I am sure when she completes her Short Service Commission of 10 years as a pilot, she would be able to plan her life well.''
'' I will cross the bridge when I come to it. I am not thinking about my life 10 years later. I might joining NASA, can even go abroad or just sit at home,'' asserts Ravina.