Sight & Sound
Lost archives
Amita Malik
WHEN I heard of the death of Marlon Brando, my mind went back to the priceless conversation I had anchored between Satyajit Ray and Marlon Brando in 1967, when Brando came to Delhi as ambassador for UNICEF. Doordarshan was the only TV channel at the time, and after re-telecasting it a few times, it just lost the tape. They could not tell if they had erased or lost it. Appeals to several I & B Ministers and those under them led nowhere. That classic conversation between two giants of the cinema was lost forever. The same is the fate of a panel discussion I anchored with Kurosawa, Ray, Antonioni and Elia Kazan. The BBC had originally asked for it, but being patriotic, I gave preference to DD and paid for it. That classic too is lost forever.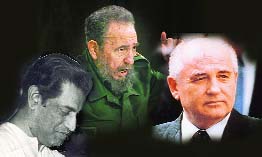 That is not all. The conversation between the two queens of thumri, Rasoolan Bai and Siddheshwari Devi, spoken in Brajbhasha sitting in a boat on the Ganga in Varanasi, is lost as well. So have Saeed Naqviís first exclusive interview with Nelson Mandela as he came out of prison, his exclusives with Gorbachev when he was in power, with Fidel Castro in Cuba and numerous others. This is only the tip of the iceberg. DD, it seems, is only interested in keeping tapes of some of the politicians, a few dance and song recitals and proudly boasts of its archives. It has since made profit by finding commercial outlets for some music recitals, mostly due to the enterprise of All India Radio, which is a more professional and older set-up and cares more for media history. All India Radio has even set up a modest museum, housed in a cramped room.
Since DD claims to be the "national" channel and gets the first pick of debates in Parliament, the Olympics, cricket matches and other prestigious events, surely it is time it wakes up to its responsibilities. It should have a full-fledged archives department, with adequate space, technical facilities for storage and a modern system of documentation with people in charge who should be specially trained. It should not be left to the mercy of transferable officers, who have no permanent interest in the archives.
An effort should be made not just to choose randomly from past and present programmes but to plan for the future. In Canada, for instance, important and interesting contemporary personalities are recorded for posterity. There is a proviso that the interviews can only be released after a long interval, something like 20 years after their death, which allows them to speak freely. In India we have the example of Maulana Azadís written memoirs, which were released after an agreed period after his death.
A national channel, which claims staggering statistics by virtue of having a free-to-air terrestrial channel, hurls almost abusive comments about independent satellite channels and makes a mess of "exclusive" coverage of the Olympic relay, or cricket matches by long and untimely advertisements, is simply not good enough.
Mr Jaipal Reddy, please ask Doordarshan to grow up and become truly national.