STAMPED IMPRESSIONS
There's always a way out
Reeta Sharma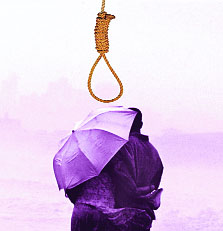 I do not believe in ghosts or the theory that you can talk to 'spirits'. But for once, I desperately wish to talk to two dead persons, Jasrish Singh and Aswinder Kaur. Both were 22 years old and brilliant students of Punjab Engineering College, Chandigarh, and both of them committed suicide on June 20.
A number of indicators confirm that both were in love with each other and wanted to marry. However, the girl's parents were against this relationship. Only three days before the suicide, the couple had married at the Nadha Sahib gurdwara and had apparently decided to live separately till they finished their education. But their dreams and plans were shattered, when the girl's parents arrived from Muktsar to forcibly take her away and put an end to their love affair. Reportedly, the girl gave her parents a slip and reached her husband, Jasrish Singh.
Both drove to Sector 26, bought poison and after consuming it, went to the lake. From there the boy called one of his relations, working in the Chandigarh Police, and informed him about the suicide pact. Though, the relation rushed to the lake, he couldn't save the couple.
Such incidents of suicide are becoming common. Committing suicide is not an act of cowardice, as it has often been projected. To take the extreme step of ending one's life requires a certain kind of madness or a deep sense of depression or failure or complete lack of direction or hope or clarity of thought. But there is yet another factor, which pushes human beings to a situation, where they feel that committing suicide is the only alternative before them.
It is really ironical and sad that our law deals with suicide with a cruel coldness. The police handles suicide cases with a particular mind-set. Although the act of committing suicide is an offence, the police often help persons surviving suicide attempts by making them wriggle out of the case on compassionate grounds. And in case the victim dies, the case of suicide is stuck with the name of the dead.
Although there is a provision of filing a case with regard to abetting suicide, in majority of such cases nobody is charged. Even the Chandigarh Police in the aforesaid case has registered a case against Aswinder and Jasrish under Section 309 for committing suicide. The police has not even considered booking a case against the parents of the students.
Whether it is in this case or in any other case, the accountability of members of society, parents, teachers or others is never questioned by the law. For instance, take the case in which a five-year-old boy was found dead on the staircase of a five-star hotel, Le Meridian, in Delhi. As per reports, the boy's parents were having dinner in a restaurant of the hotel. This child along with other children was obviously let loose on the hotel premises. Reportedly, the children were playing hide- and-seek. This attitude of parents to enjoy their outing without dispensing their responsibilities towards their children is nothing new.
Ironically, the Delhi Police is questioning the staff of the hotel. The media too hasn't uttered a word about the role of parents in letting a five-year-old boy run around without any sense of fear for his safety. I wonder why such parents are not held guilty for negligence in the eyes of law. The First World countries have a specific law under which parents are held accountable for the safety and security of the child not only within the four walls of their homes but even outside it. If a child is found wandering alone or left alone in a car, parents are immediately arrested for neglecting the child and not performing their duties.
An adult girl, Aswinder Kaur felt so threatened by her parents that she and her husband decided to die. In this case too, why are the girl's parents not being held guilty for abetting the double suicide?
As for the girl and the boy, they could have taken certain steps to tackle their lives instead of resorting to suicide. They were not so ignorant or illiterate that they did not know the alternatives before them. They could have gone to court and sought protection. But supposedly they did not have the money or resources to knock at the door of the court then they could have approached a number of local NGOs for support. They could have confided in one of their teachers or their friends and sought guidance. They could have also gone to the Women and Child Support Unit of the Chandigarh Police, whose SSP in charge had addressed PEC students a couple of times, telling them that there is a helpline which they could approach.
It is apparent that there is rampant ignorance even among the educated about alternative solutions to their problems. The police, NGOs, college authorities should jointly work on making youngsters aware about constructive solutions rather than picking the severe step of snuffing out their lives.
This feature was published on July 3, 2004