Hindi review
Sensitive storyteller
Harbans Singh
Tab Shayad: A Collection of Short Stories
by Madhur Kapila.
Shilalekh. Rs 150. Pages 200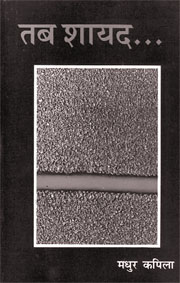 A familiar name and face in the world of art and culture, Madhur Kapila has presented another bouquet of short stories to her readers. Having spent more than two decades as a freelance journalist, bridging the gap between creative artists and the readers, she draws heavily upon her world for the subjects of her stories. However, the situations and characters, the apprehensions and conflicts, ambitions and the overwhelming despair that she weaves could be from any urban milieu of the country. Thus, much of what is found in this collection is a storytellerís urban sensitivity and truth.
Not surprisingly, most of the stories delineate the experiences of a woman in the society. In the very first story of the collection, the anguish of the protagonist at the attitude of her mother is so craftily juxtaposed with the pathetic situation of the announcement at the railway station of an old mother waiting for her son that for long after having read the story, the fear of the inevitable haunts the reader.
Equally powerful, Mujhe Jawab Chaiyeh, suffers only in comparison rather than from the impact of the inhuman and sinful situation of the gender bias. One wishes the story had been knit more tightly. Refreshingly, the author also explores the world of social groups that are at times desperately trying to be like us (Surjan) and at some other time defiantly brutalising the sensitivity of another Dr Saroj (Chaiyan). Both stories reveal the ability of the author to respond to the emerging situations and experiences in urban life.
Journalism and art, spheres that have been an integral part of the authorís life, find a fair share in plots and characters. While Meri Aur Radha Ki Kahani brings to the fore the eternal problem of marketing art by the artist, the tragic response of Radha is all too sudden and therefore a shade unconvincing.
In Ek Adad Sarkari Makan, the metamorphosis of Rajmohini and the placid acceptance of it by Vishwamohan Tuli are flawed despite the long pages, since the aggressive and scheming Rajmohini of Chandigarh is no different from the kitty-party loving Rajmohini of Bhopal. Samvedna Shesh was an opportunity not fully utilised to explore the impact of suffering and death and yet it got lost in a maze of situations and characters.
Surely, the author would return to this theme some other day and explore it in a much more focussed manner.