Dutt's way to blaze a trail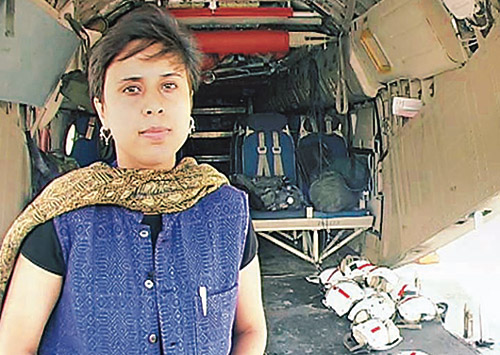 Barkha Dutt, the best-known face of NDTV, has attained iconic status as a reporter. A role model for the young, her appeal cuts across all age groups. Barkha has pushed the limits of intrepid news reporting far beyond the conventional. In an exclusive interview to Nirupama Dutt, Barkha talks of her life and work.
She has been given the title of Indian Christiane Amanpour for bringing home war on the television sets. Many are the appellations that young Barkha Dutt has earned in her career as a reporter and now senior editor with New Delhi Television, the country's biggest private TV company. She is an unmistakable icon for the young. A Miss India 2002 contestant called out from the stage that among the women who inspired her were "Winfrey Oprah, Barkha Dutt and Sushmita Sen".
Young Barkha has earned four journalism awards and the Inlaks Scholarship (1997), which sends six Indians abroad annually for graduate work. Numerous are the positive reviews that her reports have been given in Indian print media. Recently, bubbly Bollywood actress Preity Zinta donned the Barkha Dutt look with cropped hair and no make-up except for kajal as she played Romila Dutta, a war reporter, in Lakshya. All this would be enough to turn any head, young or old. But not Barkha's for she is a young professional woman with a sensible head on her shoulders.
Meeting Barkha, one thinks she is indeed her mother's daughter. Her mother's story of war reporting begins years before Barkha was born. At the time of the Indo-Pak war in 1965, Prabha Behl, a bright young reporter with the Hindustan Times, sought permission to cover the war for her newspaper. Those were the subdued sixties and women were still struggling hard to make a place for themselves in a man's world. The editor said a firm "No" to Prabha. "We don't send women reporters to the war front." But Prabha was a competent reporter and she found a way out for herself. She took leave from office and went to stay with her grandparents in Amritsar. Recounting this, Barkha says: "There, she made contacts and went to the front on her own. She started sending news dispatches from there. And these were so good that the newspaper had no choice but to use them." There is pride in the daughter's voice as she tells this.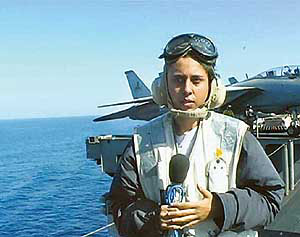 Flash forward and it is the Kargil combat of 1999. Perched precariously on a rock against the white moon gleaming in the deep blue sky, Barkha said on a Friday night Star News bulletin: "A major and perhaps final Indian military attack is expected tomorrow." Barkha became a familiar face and the best-known journalist as she was bringing live action home to the living rooms. She was also the first Indian woman journalist to be reporting thus as shells flew past and bullets were being fired. The iconic stature this dare bestowed upon her could have been a heady cocktail and someone more vulnerable to success would have been a part of the Capital's party circuit with her mug every other day among the Page Three celebrities. How did she resist it all? To this query, Barkha's reply is: "I do not consider myself a celebrity. My work is important and if it is appreciated, I like it. But I do not let it spill on to my persona. Perhaps it all has to do with the sensible middle-class upbringing that my parents gave me." Prabha married an Air-India executive, S.P. Dutt (known as Speedy among his friends because of his initials), and Barkha was their firstborn. She was born in 1971, yet another war year when Bangladesh was liberated. Although a December-born Sagittarian, her parents named her Barkha. Laughing, Barkha says: "This is so because my parents just loved the rains, and my sister who is younger to me, is named Bahar." Perhaps the couple was harking back to the Lata melody of the sixties — O' sajana barkha bahar aayi. Barkha was educated at Modern School in New Delhi and then she went to St.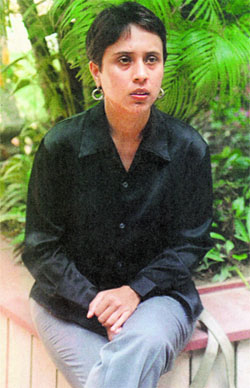 Stephen's for a Bachelor's degree in English literature. Barkha had a flare for writing and also dreamt about making documentary films. So, she did postgraduation in mass communication from Jamia Milia. "That was the time NDTV was just about starting and I took up a job with them. News has a way of getting into your very bones. So, there was no looking back after that," she says. However, she took two years off from work and got another degree in journalism from Columbia University, New York. Her sister Bahar is in an altogether different line. She is a wild life conservationist.
Did she inherit the gift of newsgathering from her mother, who rose up to be Chief Reporter of Hindustan Times and died young because of a brain haemorrhage? Barkha is prompt to reply: "Not just my mother but that whole generation of pioneering women journalists paved the way for us. They, in fact, were the ones who struggled more and broke the glass ceiling for us. My mother's office had refused to send her to the front. I may have been a novelty as the first woman journalist on air from the action in the field but I had the support of my office to be there." Recalling her childhood, she remembers her mother always busy and leading an adventurous life. "It was exciting but also scary at times because she would get threatening telephone calls. I remember some of her stories. She had interviewed Billa-Ranga, terrifying criminals, in Tihar Jail. She had broken the stories of beef tallow being used in vanaspati and leakage of MBBS papers," Barkha recollects, adding that news reporting is a consuming profession and her own mother died at her prime in 1984, when Barkha was only 13.
Coming to the subject of reporting, one moves to the slightly uncomfortable zone when the liberals blamed Barkha for glamorising war on television and whipping up sentiments. Fully conscious of this criticism, Barkha says: "Yes, this did come up all too often. I was charged with making the situation larger than life. But sometimes during war and calamity, the situation does become larger than life, although I did make best efforts to see the war through the eyes of young officers in the age group of 21 to 27. I tried to be impartial but at such times the feeling of nationality does come into play. When people there are dying for you, one cannot remain totally objective. But I dwelt also on the misery of war more so in my widely published and circulated Confessions of a war reporter. The television medium is also such that one sounds more shrill and loud because one is going on air live as things are happening."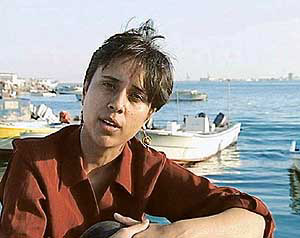 However, Kargil has not been the be-all and end-all of this young lady with a nose for news. The Kashmir story has been very close to her heart for that was a place she visited again and again for follow-ups. Barkha says: "Reporting on Kashmir too is not easy. If you empathise with the Army, you are called a government stooge and if you see the human side of militants, you are labelled anti-national. But a friend told me that if all sides start labelling you then you could be sure that you are doing your work impartially. And that is precisely what happened to me in Kashmir." During the Gujarat riots, Barkha covered the area from Godhara to Baroda at length, following rape victims and others. She recounts a sad incident of those times: "I saw the helplessness of the people of a particular community. My cameraman Ajmal Jami and I (we have always worked together) were driving down and the mobs stopped our car. I do not believe in religious identity but I had to say that I was a Hindu and invent a Hindu name for Ajmal." However, the tall and slender reporter feels vindicated by the recent election results. "The people have voted out communal forces and the Gujarat reporting by the Press has played a significant role. It is indeed a moment of honour for the Press."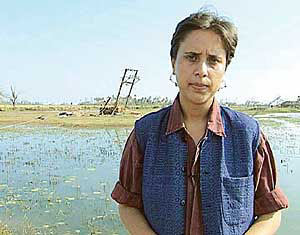 What are the other interests of this newswoman of substance? Barkha has quite a few. She is an outdoor girl who likes swimming and of late she has been doing horse riding too. She had a dream of making documentaries and writing, "I feel the time for these things will come now when I slow down and leave spot reporting for the younger lot. I love reading fiction and read a lot of it. Maybe I will also some day try writing fiction." She says this with the conviction of one who has done her job well and would now like to move on and not hold onto what brought her glory. In Barkha is the courage to re-invent herself. With her celebrity status there are often attempts by scribes to put her in the society gossip columns. But once when one reporter called her to find out if there was more than just friendship with Amir Khan of the Lagaan fame, this alert newswoman turned around and wanted to know the scribe's credentials as a journalist for daring to put such a question to her. Atta girl.
When asked about her views on marriage, Barkha's murmurs a thing or two against the institution of marriage, then adds with a laugh, "Well, I could say that I have not come across the right person yet." Well so the Barkha story goes on for there is much yet to come.