Price the bride pays for prejudice
Jyoti T. Sharma on how the dice is loaded against the bride in an Indian family from the word go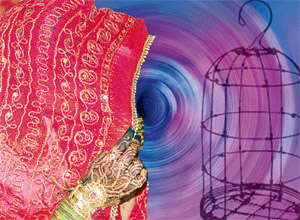 Heard from a friend that Gurinder Chaddha was shooting for Bride and prejudice. Couldn't resist contemplating on the title as the words communicated beyond the purely grammatical, to connote something extra. In numerical terms, there are many more women who are educated and have options, but has the female consciousness, post-Independence, at all registered a change in this term?
Sangeeta Bhargava, an officer in a nationalised bank, says that after 12 years of marriage, she still gets to eat the left-overs where as her husband eats only food that is fresh. Manjeet Bawa, 44, a lecturer, recalls the first day when she entered her husband's home armed with an MA in literature, a job and a heavy dowry. First, she was told how ungraceful she was, and if she wore something without the prior approval of her mother-in-law, she was immediately told how ugly she looked. Aarti Malhotra, a school teacher, had the demeaning experience of being "reported" at home. She faced a reversed polarity at every act—she did not do sewa, dared to protest when they spoke ill of her mother, rearranged the home etc., etc. It needs greater courage to be able to live through a bad marriage to a drunken, unemployed and/or wife-beating husband, and still adjust.
Such attitudes that are simply taken for granted. As soon as a woman takes on the role of a daughter-in-law, she is taken for granted and even basic politeness from a majority of family members is deferred.
Adjustments begin and are demanded from day one. The 'real woman' is expected to be healthy, educated, self-reliant, yet submissive. Expected to be perennially cheerful and dynamic under all circumstances, in a trice, she is expected to forget her upbringing and cherished ideals. Also, she has to tailor her likes and dislikes to those of her man's family. This obedience is expected by everyone, whether the upper crust or the weaker sections of the society. Women are socialised to be grateful for small acts of kindness which men do for them, which, in another society, would be rights due from one civilised adult to another.
If men were as sensitive to the delicate situation of the entrant into the family, there would be less conflict, and for the woman, indignity.
It is the family that has become the site of violence for the woman—whether it is dowry cruelty or mental torture. For the family offers protection to the lonely woman, the vagrant who will dissolve the structure of society. The family 'protects' the woman from all dangers, and for the woman it is a constant trade-off between these real and, at times, imagined dangers, and her personal sense of worth.
The female image of herself is constantly battened down and the woman is unable to reconcile the two matrices—one given to her by her logical and human mind formalized by the societal mores that demand her to be a vessel, a carrier and a bit of a martyr, constantly relinquishing all she has aspired for. Only wondering at the patent unfairness of it. Because any adult woman who wants to show herself as a subject, as a doer of an action, not one who is effected upon, is 'spoilt', 'fast', or simply recalcitrant.
For some strange reason, in many families it is still the female of the species who is seen as the person most in need of benediction. She is expected to touch everyone's feet, while the male is absolved of this responsibility. This 'female-only gesture,' on a rational level, amounts to nothing more than reminding a woman of her place, in a codified ritual unto the family. Where then, does that leave education, financial independence and awareness?
The woman bears the archetypal female role of home-maker as well as the hunter-male role of bread-winning, but she does not have the rights of the bread-winner. The multiple roles constantly impinge, and despite being able to articulate certain needs, she is still powerless to control events in her own life. She can only devise responses which seem contradictory. As one traditionalist put it—she sees herself as enlightened with education, and so she can adapt better to her husband's home and his likes and dislikes. It hurts her when her mother-in-law fetches water pointedly for the son, even though both have come back from equally tiring job—it is blasphemy, of course, to serve water to the daughter-in-law.
But this young professional will also teach her daughter to expect the same treatment from her mother-in-law because "These things don't change". Despite her education and her financial independence. This woman does not have the self-worth or self-knowledge that she is important enough. She retreats deeper into the family because the family demands and threatens like no one else can. The woman is reconstituted each time by someone else. Imagine the depth of identity loss that is expected by the family when during the marriage ceremony, her is changed. Even the so-called emancipated woman is thus not a freely choosing subject as we and he and she believe it to be. By the very fact of relinquishing home ground, wherein it is the woman who is the 'intruder' in a home the woman is expected to give in.