BITS AND BYTES
3000 students attend PTU job fair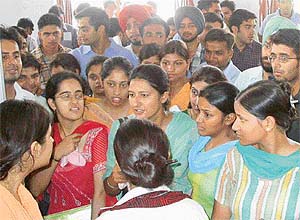 Students at PTUís placement fair. ó Photo by Pawan Sharma
Jalandhar: In its maiden attempt to bring its passouts face to face with potential employers, Punjab Technical University (PTU) held a three-day placement fair at Desh Bhagat Yadgar Hall that concluded on Sunday.
The placement fair was attended by more than 3000 students from various streams, including engineering, management, information technology and pharmaceutical sciences. As many as 30 companies, including Lovely Autos, Hutch, Tata Telecom, Spice and Wipro Spectra, put up their stalls, where candidates were interviewed, tested and shortlisted..
Workshops were also organised to assist the students prepare their resume, find correct resume formats and help them with technical jargon. Students were also given tips on preparing for an interview. Guest speakers like Pervin Malhotra addressed a seminar on motivational tools for success in the corporate world. A programme was also organised on using Internet for job hunting and information retrieval.
Dr S.K.Salwan, Vice-Chancellor, PTU, said though the exact number of candidates placed or shortlisted was not known, all efforts had been made to ensure that top-notch companies took part in the fair to make the best possible opportunities available to students. ó Deepkamal Kaur
New Delhi: The NICE Society educational institutions organised its first ever Placement Week recently. The first two days of the Placement Week were organised at the Taj Palace Hotel here and about 175 students of the society were selected on the first day itself by some of the top corporate houses that participated in the event.
Approved by the AICTE and the Government of India, NICE Society Educational Institutions are affiliated to UP Technical University, Lucknow, and Chaudhary Charan Singh University, Meerut. The technical education programmes run by its colleges include B.Tech in Information Technology, Computer Science and Engineering, Electronics and Communication Engineering and Electronics and Instrumentation Engineering, and MCA, MBA, BCA and BBA.
Kunwar Shekhar Vijendra, Vice-Chairman, NICE Society, said, "The Placement Week was meant to turn potential into reality." According to a spokesperson for the society, about 32 corporates participated in the first two days of the event and 35 students were offered a job on the spot, while 176 were shortlisted. Some students were also shortlisted for overseas placements. ó TNS