SP won't contest RS post
Mulayam seeks package for Uttar Pradesh
Tribune News Service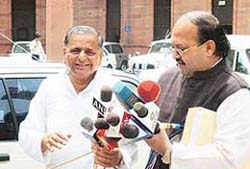 Uttar Pradesh Chief Minister and Samajwadi Party chief Mulayam Singh Yadav and his party General Secretary Amar Singh talk to the media outside the Prime Minister's office after a meeting with Mr Manmohan Singh (not in the picture), in New Delhi on Monday. — PTI photo
New Delhi, July 12
While Uttar Pradesh Chief Minister Mulayam Singh Yadav today met the Prime Minister, Dr Manmohan Singh, seeking a special package for the state, he gave clear indications that the Samajwadi Party was not in the race for the post of the Deputy Chairperson of the Rajya Sabha.
Close on the heels of a Bihar package, Mr Yadav met Dr Manmohan Singh to demand a special package of Rs 18,230 crore for the state.
Talking to reporters after the meeting, the UP Chief Minister said the Prime Minister had assured him that he would seriously consider his demand and would "not neglect Uttar Pradesh".
"I have no problem over the Central package to Bihar. If Bihar is given more, I will be happy. But I want Uttar Pradesh should not be neglected," Mr Yadav, who was accompanied by SP general secretary Amar Singh at the meeting, said.
The request for special package includes provision of Rs 4,650 crore for energy, Rs 2,050 crore for industrial development, Rs 1,442 crore for irrigation, Rs 2,744 crore for Rural drinking water, Rs 1,350 crore for urban drinking water, and Rs 2,195 crore for primary education, midday meals and scholarships.
The meeting took place a few days after Bihar, ruled by the RJD, a key constituent of the ruling UPA, was granted a package in the Union Budget 2004-05 ahead of the Assembly elections in the state, raising protests from the Samajwadi Party for denial of a similar package to UP.
On the issue of the increase in the FDI in the insurance, telecom and aviation sectors, which has evoked strong criticism from the Left parties, Mr Yadav said the Samajwadi Party was an outside supporter of the United Progressive Alliance government and was of the view that "some conditions" should be imposed before allowing such an increase.
He, however, parried a question on whether the SP would oppose the Finance Bill on the FDI issue.
Asked about SP's plans for fielding its candidate for election to the Deputy Chairperson's post of the Rajya Sabha, Mr Yadav said "we have no plans to field a candidate."
Reports had it that the SP, which has 13 members in the Upper House, might field senior leader Jnaneshwar Mishra in the election whose schedule was yet to be announced.
"We have not given thought to it," he said when asked which party it would be supporting in the election.
The Congress is seeking the post for its nominee taking the plea that at least one of the four posts of the Presiding Officers in the two Houses should be with the party heading the ruling UPA and is appealing for a consensus on its candidate.