PUNJAB
HARYANA
JAMMU & KASHMIR
HIMACHAL
REGIONAL BRIEFS
NATION
OPINIONS
MAILBAG
BUSINESS
SPORTS
WORLD

Wednesday, July 14, 2004, Chandigarh, India
Updated at 3:00 am (IST)

Punjab legislation rocks Parliament
New Delhi, July 13
The passage of the controversial Punjab Termination of Agreements Bill, 2004, by the state Assembly rocked Parliament today, prompting Prime Minister Manmohan Singh to call a meeting of the chief ministers of the four states concerned for an "amicable resolution of the crisis".
CAST YOUR VOTE
Is Punjab right in annulling agreements on the sharing of river waters?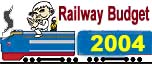 EDUCATION
JOBS & CAREERS
HEALTH & FITNESS
FORUM
SCIENCE & TECHNOLOGY
SPORTS
WOMEN
TRIBUNE CLASSIFIEDS
BRIDES WANTED
GROOMS WANTED
OTHERS
HOW TO PLACE ADVTS
Centre asks Punjab to submit SYL canal record
Chandigarh, July 13
The legislation passed by the Punjab Government abrogating all agreements regarding river waters sharing with the neighbouring states notwithstanding, the Central Public Works Department, which has been assigned the task of the completion of the SYL canal by the Union Government, has asked the state government to hand over to it all the relevant record with regard to the canal.


Amarinder meets Prime Minister; says no going back
Nation page

BJP demands status quo on waters row

Punjab action unsustainable: experts
Punjab page

Badal warns NDA partners on river waters issue
Haryana page

Haryana leaders call the Act unprecedented, unconstitutional

---

THE TRIBUNE MAGAZINES
On Sundays

On Saturdays

IN PASSING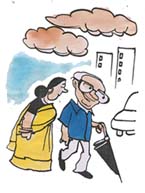 All their water disputes will soon be resolved... let the monsoon come.
by Sandeep Joshi
(Click to enlarge)

Indo-Pak composite talks from July 28
New Delhi, July 13
India and Pakistan today agreed to the schedule of official-level talks on six of the eight outstanding issues of composite dialogue from July 28, but the dates of Foreign Ministers' meeting here are yet to be worked out.
(Details on Nation page)

Guwahati, July 13
At least 13 persons have died and more than 20 lakh people affected in the floods in Assam where all rivers are above the danger level, despite some let up in rains.


In video: Flood situation worsens in Bihar. (28k, 56k)

Villagers take shelter on National Highway-57 after their houses were flooded by the Bagmati river in Darbhanga district of north Bihar on Tuesday. — PTI
Mandi Board GM held for taking bribe
Chandigarh, July 13
The Punjab Mandi Board's General Manager (Marketing), Mr Sikander Singh, was caught "red handed" by state Vigilance Bureau sleuths while allegedly accepting a bribe of Rs 50,000 from an employee for letting him off.

J&K Deputy CM escapes bid on life
Srinagar, July 13
Deputy Chief Minister Mangat Ram Sharma escaped unhurt when suspected militants hurled a rifle grenade towards his motorcade, injuring five persons, including three police personnel and two civilians, near the old KMD Bus Stand in the Central Lal Chowk area here this morning. Mr Sharma was on his way to a fly-over, when the explosion took place at 11.50 am, minutes before its inauguration.

In video (28k, 56k)
In Health & Fitness today
Punjab annuls all water pacts
July 13, 2004
SAD sweeps SGPC election
July 12, 2004
Bhattal divested of Agriculture
July 11, 2004
11 get life term for Mumbai blasts
July 10, 2004
IT exemption limit raised to Rs 1 lakh
July 9, 2004
Economic survey for overhauling tax system
July 8, 2004
Rail fares, freight rates untouched
July 7, 2004
Capt drops 10 ministers
July 6, 2004
22 killed as bus hits tree near Ferozepore
July 5, 2004
2 die, 35 hurt in blast near Mufti's residence
July 4, 2004