M A I N N E W S
Assam floods kill 13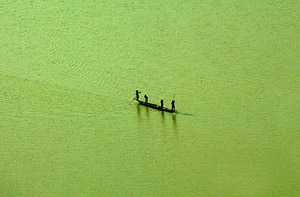 Flood-affected villagers ride in a boat to reach a safer place in Mandakata, Assam, on Tuesday. — Reuters photo
Guwahati, July 13
At least 13 persons have died and more than 20 lakh people affected in the floods in Assam where all rivers are above the danger level, despite some let up in rains.
Though official sources put the toll at 13, unofficial reports pegged the toll at 28.
Most of the flood victims are in relief camps.
Indian Air Force (IAF) personnel have placed seven helicopters under the disposal of the Assam Government for emergency purposes. The IAF has rescued 300 children. — UNI