M A I N N E W S
J&K Deputy CM escapes bid on life
Tribune News Service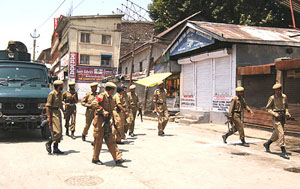 Policemen rush towards the site of the grenade explosion just before the opening ceremony of a flyover at Lal Chowk, Srinagar on Tuesday. — Photo by Amin War
Srinagar, July 13
Deputy Chief Minister Mangat Ram Sharma escaped unhurt when suspected militants hurled a rifle grenade towards his motorcade, injuring five persons, including three police personnel and two civilians, near the old KMD Bus Stand in the Central Lal Chowk area here this morning.
Mr Sharma was on his way to a fly-over, when the explosion took place at 11.50 am, minutes before its inauguration. Minor damage was caused to an escort vehicle due to splinters, while no one in the vehicle was injured. Minor damage was also caused to two more vehicles in front of the Lala Rukh Hotel. Chief Minister Mufti Mohammad Sayeed, who inaugurated the bridge, was also to pass through the same main road, delayed his arrival by a few minutes. He later arrived at the venue at 12.10 p.m.
The grenade fell on the main road in front of the old KMD Bus Stand opposite Lal Rukh Hotel, resulting in injuries to five persons. They included Mr Haseeb Ahmad, SDPO, Kothibagh, two police personnel and two civilians, one of them a minor girl. The SDPO, according to sources, has been shifted to Delhi. There were a few pedestrians on the road as shops and business establishments were closed on a strike call given by separatists to observe the killings of July 13, 1931.
Elsewhere, one person was killed and 12 others were injured in a mine explosion on the back side of a residential house in the Nishat area on the outskirts of Srinagar last evening. The police said one Sajjad Ahmad Bhat, a baker from Anantnag, was killed and 12 others were injured. All of them were living there as tenants.