PUNJAB
HARYANA
JAMMU & KASHMIR
HIMACHAL
REGIONAL BRIEFS
NATION
OPINIONS
MAILBAG
BUSINESS
SPORTS
WORLD

B U S I N E S S

For now, VAT means Very Agitated Traders
Nationwide stir planned from August 15
New Delhi, July 14
Traders today threatened to launch a nationwide agitation if their apprehensions regarding Value Added Tax (VAT) were not taken care of by August 15.
15 new STPI locations identified
New Delhi, July 14
The government has approved setting up of Software Technology Parks of India (STPI) at 15 new locations, Lok Sabha was informed today.
Corporate news
Biocon clocks 112 pc growth in profit
To invest Rs 650 cr within a year
Bangalore, July 14
Biocon, one of India's top five life sciences company, has registered a net profit of Rs 48.6 crore during the first quarter (June end) of 2004-05, a 112 per cent increase, as against Rs 22.9 crore registered during the corresponding period last year.


Hero Honda

Exide Industries


| | |
| --- | --- |
| | Vandana and Mukesh Luthra, chairperson and MD, VLCC Group of Companies, at a Press conference in New Delhi on Wednesday. VLCC said it will receive up to $ 10 million investment from Hong-Kong-based CLSA Private Equity Ltd in two years to expand its business across the country and foray into international markets. The company also plans to float an IPO. — Photo by Rajeev Tyagi |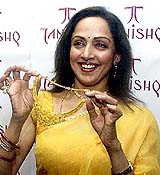 Bollywood actress Hema Malini displays a gold necklace at the launch of Tanishq national purity campaign in New Delhi on Wednesday. — PTI




Infosys net grows 39 pc
July 14, 2004
8 pc growth difficult, says Chidambaram
July 13, 2004
No tax relief required for IT firms: Murthy
July 12, 2004
Solan to have
cement plant
July 11, 2004
Withdraw turnover tax, demand investors
July 10, 2004
Carrot to industry, stick to market
July 9, 2004
Economic Survey offers mixed flavour
July 8, 2004
Industry's thumbs-up for Laloo's Rail Budget
July 7, 2004
Agriculture deserves more attention, says Montek
July 6, 2004
Second-generation urban reforms in the offing
July 5, 2004