M A I N N E W S
HP, Rajasthan CMs meet Manmohan
Tribune News Service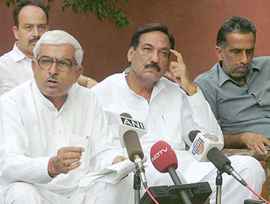 Haryana BJP leaders Kishan Singh Sangwan, Ranjit Singh Chautala, Kirsan Pal Gujjar and Rao Narvir Singh addressing a Press conference to announce "Haryana Bandh" on July 19 on the SYL issue, in New Delhi on Wednesday. — Photo by Rajeev Tyagi
New Delhi, July 14
Prime Minister Manmohan Singh today met Chief Ministers of Rajasthan and Himachal Pradesh as part of the Centre's efforts to grapple with the sudden inter-state crisis resulting from the passage of the controversial Punjab Termination of Agreements Bill 2004.
The two Chief Ministers had separate meetings with the Prime Minister, each lasting nearly 30 minutes. Punjab Chief Minister Amarinder Singh and his Haryana counterpart Om Prakash Chautala had met the Prime Minister yesterday.
Rajasthan Chief Minister Vasundhra Raje later indicated that her state, which is one of the states affected by the Punjab decision, might take legal action.
She said the Rajasthan Government had decided to take all "constitutional and legal action" to protect the state's interests following annulling of inter-state agreements by Punjab on sharing of river waters.
Replying to questions, she said Prime Minister had "promised to protect the rights of the states."
Ms Raje said her meeting with the Prime Minister was part of the exercise undertaken by Dr Singh to talk to the Chief Ministers of states affected by the Punjab Bill.
Ms Raje said she conveyed the resentment prevailing in the state over the Punjab Government's decision. The Rajasthan Chief Minister said the state was already reeling under drought conditions and there was acute drinking water problem. She said the Punjab decision would further aggravate the situation.
Ms Raje also held a meeting with Rajasthan Members of Parliament and urged them to raise issues concerning the state's interests inside and outside Parliament.
Himachal Pradesh Chief Minister Virbhadra Singh said after his meeting with the Prime Minister that though his state was not directly affected by the Punjab Bill, he did not favour terminating inter-state accords "unilaterally."
"Changes, if any, should be made by consensus... the water issue is not only between Punjab, Haryana and Rajasthan. This type of problem is between many other states as well. If such a method succeeds, others can also resort to it," he said.
The Chief Minister said he had given his suggestions to Dr Singh.