M A I N N E W S
In Pakistan, Armitage does the balancing act
K. J. M. Varma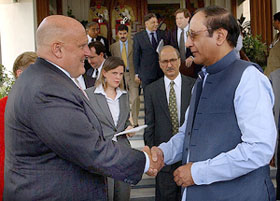 Pakistan Prime Minister Chaudary Shujaat Hussain (R) greets US Deputy Secretary of State Richard Armitage in Islamabad on Thursday. — Reuters photo
Islamabad, July 15
In a balancing act, US Deputy Secretary of State Richard Armitage today maintained that all terrorist camps in Pakistan had not been dismantled while observing that human rights violations existed in Jammu and Kashmir.
"I was correctly quoted yesterday (in New Delhi) when I just noted that all terrorist camps have not been dismantled" in Pakistan, Armitage, who arrived here last night, said after holding talks with Pakistani leaders, including interim Prime Minister Shujaat Hussain, Prime Minister-designate Shaukat Aziz and Foreign Minister Khurshid Mehmood Kasuri.
His statement assumes significance as during his visit here last year Armitage had said he was told by Pakistani officials that there were no terrorist camps.
Addressing a joint press conference with Pakistan Foreign Secretary Riaz Khokhar, he said some violence in Jammu and Kashmir was also indigenous.
Asked about alleged human rights violation by Indian security forces in Kashmir, Armitage said: "There is absolutely no question that there is violence and violation of human rights in Kashmir. We have discussed this with our Indian friends" during talks in New Delhi yesterday. — PTI