PUDA to offer partnership to farmers
Gurdaspur, July 16
The Punjab Government is going to float a partnership scheme for the farmers whose land is acquired by PUDA. Under the scheme, the farmers whose land is acquired by PUDA for developing a colony, would be given two options —either get the compensation at the rates fixed by the district administration or developed plots in lieu of the land.


Mystery shrouds midnight drama
Irate villagers force cops, liquor mafia men to flee
Sheron Bagga (Beas), July 16
Policemen and musclemen of a wine contractor who allegedly struck terror in this non-descript village of the Mand area had to flee leaving their two vehicles and uniforms (packed in polythene bags) behind when irate mob of two villages gheraoed them last night.
Residents of the Mand area show uniforms of policemen who fled under the cover of darkness when they were spotted with two vehicles under mysterious circumstances on Thursday night. — Tribune photo by Rajiv Sharma
Residents attack cops
Jalandhar, July 16
Hundreds of irked residents of the Jalandhar cantonment area, who were protesting against the arrest of a young resident of the area, allegedly attacked policemen and indulged in hooliganism before blocking traffic at the Rama Mandi chowk for about half an hour this morning.
CM promises special package for Punjab
Ropar, July 16
Punjab Chief Minister Capt Amarinder Singh today said he would soon take up the matter with Dr Manmohan Singh, Prime Minister of India, to grant special package of economic incentives to Punjab on the pattern of neighbouring states like Himachal Pradesh, Uttranchal and Jammu & Kashmir to boost the prospects of trade and industry in the state.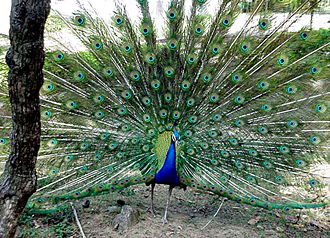 Welcome monsoon: A peacock spreads its plumage in Ludhiana on Friday. — PTI
Power tariff hike move: panel invites objections
Patiala, July 16
The Punjab State Electricity Regulatory Commission has invited objections to the Annual Revenue Requirements and Tariff Applications filed by the Punjab State Electricity Board for 2004-05 which seeks to raise Rs 392 crore tariff increase. Board sources said the PSEB had sought revenue requirement of Rs 787 crore for 2004-05. They said the board wanted to raise Rs 392 crore through tariff increase.
Cops accused of rape attempt
Kotkapura (Faridkot), July 16
A case of alleged police excesses has come to light. Sonu Sharma, a 20-year-old girl and resident of Maharaja Ranjeet Singh Nagar, in a complaint to the DGP, Punjab, and the Punjab State Human Rights Commission, has alleged that eight policemen, including SHO Nachhatar Singh and ASI Sukhdev Singh, tried to rape her 15-year-old sister Rajni in "illegal" custody.
Radical outfits protest against 'Girlfriend'
Pathankot, July 16
More than 300 activists of the Shiv Sena (Hindustan) led by Mr Ashok Sudan, district president of the sena, demonstrated against the screening of controversial film "Girlfriend" here today.



Policemen guard a cinema hall screening Girlfriend in Amritsar on Friday. — PTI photo
Truckers block traffic over official lethargy
Rampura, July 16
Members of a local Truck Operators Union and Kisan Union today blocked traffic on the Bathinda-Rampura and Rampura-Maur Mandi roads by parking hundreds of vehicles to protest against the callous attitude of the district administration and its alleged involvement in shielding the persons accused of defrauding the union.
Jaundice spreading its tentacles in Bathinda
Bathinda, July 16
Even as the authorities concerned have been claiming that jaundice was under control in the city, it has been spreading its tentacles fast as more and more new cases have been surfacing from the nook and cranny of the town.
Docs reject panel report
Patiala, July 16
The week-long impasse between municipal corporation employees and doctors of Government Rajindra Hospital today took another turn with the latter rejecting the committee formed to probe the charges of negligence against them amid reports that the committee had submitted an adverse report against them doctors.
Cancel FIR against junior engineer: Panel
Bathinda, July 16
The members of the Diploma Engineers Association, Punjab, today urged the Irrigation Minister, Mr Avtar Henry, to facilitate the cancellation of a false murder case registered against a Junior Engineer, Mr Jagdev Singh Bhatti, at Kotbhai police station of Muktsar district.
BJP workers' dharna against power cuts
Hoshiarpur, July 16
Workers of the Bharatiya Janata Party, the Bharatiya Janata Yuva Morcha and residents of the city led by Mr Tikshan Sud, MLA, Mr Bhagwant Kishore Gupta, Mr Vijay Sud, BJP leaders and Mr Shiv Sud, Municipal Councillor demonstrated and raised slogans at Shastri Market here yesterday to protest against power cuts by the PSEB and failure of the Punjab Government.
Akali leader seeks FIR cancellation
Amritsar, July 16
Mr Nirmal Singh Kahlon, former Akali minister, who is on the run after registration of an FIR against him, following firing at a polling station during the SGPC elections in Gurdaspur district, today sought cancellation of a case registered against him along with three other activists of the youth wings of the Shiromani Akali Dal.
11 get bail in Kanjhla criminal case
Sangrur, July 16
Mr Jagroop Singh, Sessions Judge, has granted anticipatory bail to 11 residents of Kanjhla village against whom a criminal case was registered by the Dhuri police on June 25 for allegedly making an attack on the police and attacking the house of Amritpal to kill four persons who had been allegedly detained in a room of Amritpal's house by residents as they were of the view that these four persons were looters.
Sugarcane growers sore over non-payment of dues
Fazilka, July 16
Even after the lapse of 2 years 1,500-odd sugarcane growers of Fazilka, Jalalabad and Abohar subdivisions have not been paid Rs 8 crore against the sugarcane supplied by them to the local Cooperative Sugar Mill.
Drive against intoxicant sellers
Bathinda, July 16
The committee constituted by the district police authorities will carry out an aggressive campaign against those selling intoxicants from chemist shops.
Molestation victims commit suicide
Moga, July 16
Two girls of Rode village today committed suicide by consuming some poisonous substance after a few village boys allegedly molested them.
Man commits suicide
Hoshiarpur, July 16
Kuldip Kumar Tipu of Hariana town of this district allegedly committed suicide on Wednesday evening.
Labourers kill farmer
Phillaur, July 16
A farmer, Puran Singh, was allegedly beaten to death with iron rods by two migrant labourers, Balli and Bhola of Bihar, at Jajja Khurad village, near here, last night.
Education staff working in unsafe building
Sangrur, July 16
More than 70 officers and employees of the offices of District Education Officer (Secondary), Sangrur, and District Education Officer (Elementary), Sangrur, are facing a threat to their lives as they are working in a building which has been declared unsafe by the Department of Public Works, Buildings and Roads.
Varsity 'hushing up' case
Amritsar, July 16
Guru Nanak Dev University allegedly tried to hush up the case of a head examiner for MA (Punjabi), who was accused of tampering with the award sheets to favour students from his college.
2,775 seats filled in CET counselling
Jalandhar, July 16
Punjab Technical University has filled nearly 2,775 seats of its 12,510 seats in 43 colleges offering B.Tech in the state during its ongoing counselling being held on the campus for the past more than 20 days.