Punjabi review
Age of regret
Gulzar Singh Sandhu
Kandhi Uttai
by Surjit Hans. 21st Century Publications, Patiala.
Pages 114. Rs 100.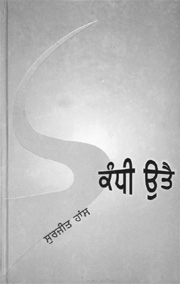 Old-age is the theme of many a poem. Surjit Hans describes the characteristics of this stage of life. An old man goes to another room, but does not remember what he came for. He is seldom alert. At times he is sorry for the mistakes of his youth.
"A tree on the bank of river cannot last long," says Sheikh Farid, describing old age. In Kandhi Uttai, the author explores the myriad shades of old age. Old friendships are snapping; quite a few dear ones are gone.
A reader would find all this and a lot more in Kandhi Uttai. The book is dedicated to Tara Singh Chann, a Punjabi patriarch.
There are 114 sonnets on old age in the book. The form of the poes reminded me of Shakespeare, Wordsworth and Shelley. Hans' admiration of Shelley made him adopt the structure that Shelley had used in Ode to the West Wind for Terza Rima.
Surjit Hans' sonnets are simple, straightforward and meaningful. It is difficult to translate simple verses. Nevertheless, here is a translation of the first and the last stanzas of The Return:
Need changes to memory and memory is a need
It is a sum total ironies of destiny and sentiment
Equally the world knows the it hardly reaches the end.
* * * * * * * * * * * * * * * * * * * * * * * * * * * * * * * *
I would never know what is wanting in me
One can hardly make a return for the robberies and violence of the world.
Alas, the English translation has robbed the poem of its rhyme. It is hard to decide whether Surjit Hans has been lucky or unlucky in taking on a new subject for poetry.