Thrilling tales from wizard of suspense
Chetna Keer Banerjee
The Adventures of Feluda: The Golden Fortress,
Incident on the Kalka Mail
The Secret of the Cemetery
The Criminals of Kathmandu
Puffin. Pages 119, 95, 110, 89. Rs 99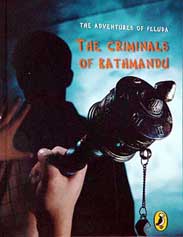 At a time when Harry Potter and his brand of wizardry are the flavour of the season, Satyajit Ray's Feluda adventures may not quite be the idea of a thrilling read to many. But even after J.K. Rowling's wonder boy has seduced bibliophiles, there are geniuses like Ray's inimitable, sharp-witted sleuth Feluda — with his trademark blue notebook and packets of Charminar —whose charm still burns bright, much in the manner of an old flame. His adventures continue to thrill not only for their true-to-life, person-next-door characterisations but also for the subtle build-up of suspense without the prop of literary special effects.
Among the books under review, translated from Bengali by Gopa Majumdar, The Golden Fortress stands out for its unique storyline as well as folksy flavour. It takes the protagonists — Feluda and his cousin Topshe outside Bengal into the deserts of Rajasthan. It is the search for a little boy Mukul, a jatismar (person who can recall his previous life), who has left for the state in the company of a parapsychologist, Dr Hemanga Hajra, that takes the sleuth and his companion on this hair-raising adventure. Mid-journey, on the train ride from Agra to Bandikui, they meet Jatayu, alias Lalmohan Babu, the author of crime thrillers, who joins them in their escapade.
From Jodhpur to Bikaner to Jaisalmer, they encounter a series of suspicious characters and get stranded on a desolate highway, but finally make it to their destination on camel back.
Fast-paced action hurtles the book towards the climax wherein the sleuth not only tracks down the Golden Fortress but also exposes the impostor who was after the treasure hidden there. A gripping tale that is laced with interesting details that evoke a feel of life in sandy terrain — naagra-wearing Rajasthani villagers, the imposing forts steeped in history, caparisoned camels, an intimidated peacock in attack mode and so on.
Incident on the Kalka Mail, shifts the scene of action from arid land to hilly terrain. Feluda is approached by a rich client whose blue briefcase gets swapped with a co-passenger's on board the Kalka Mail. What initially seems a straight case of recovering the briefcase soon becomes tangled in a number of twists and turns. When Feluda reaches Simla with Topshe and Jatayu in tow, he realises that it is not only the briefcase that they're after but also an invaluable travel manuscript that is missing from among its contents and a precious stone. A chilling encounter on snowy Himalayan slopes finally brings them face to face with the real culprit.
The Secret of the Cemetery is more eerie in its feel, simply by virtue of the events centring round a cemetery in Kolkata. An old grave that has been dug into in search of a hidden treasure, a mysterious s`E9ance that takes place in an old apartment and the suspense-laced wait in the dark, amidst croaking frogs and crickets, to catch the culprit — the tale succeeds in evoking the spookiness and dread of a place for the dead.
The Criminals of Kathmandu reads quite like the script of a Bollywood masala film. A murder in a hotel, an ambush in a prayer wheel and a gang of drug peddlers, with a taste of night life in a casino thrown in. Though this action-packed drama has familiar elements, it nonetheless makes for a gripping read.
The appeal of these tales lies in their straight storylines presented through pithy narratives shorn of any verbosity. Feluda's antics may not stun like the strokes of a wizard but they do cast a spell slowly and surely. And Ray makes his own brand of magic with the effortless prose and stylistic simplicity.