Food Talk
Salad days
With people becoming health conscious, salads have become the weight-watchers' delight. Pushpesh Pant writes how salads can be the main course and not just a side piece.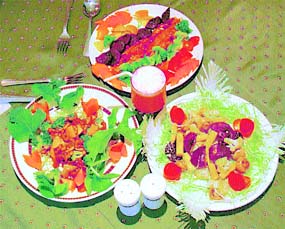 The best period in a man or woman's life is referred to as "salad days" and no meal is considered complete without a salad accompanying it. The lowliest of the dhaba gives away free a couple of green chillies, a few slices of onions and maybe a little mooli-tamatar in lieu of. More pretentious eateries palm off a pre-cut and refrigerated assortment of the same ingredients as a 'farm-fresh green salad' and charge the patrons an unexpected exorbitant sum for it. Half a lemon is often all that separates this concoction from the roadside offering.
In still fancier restaurants, the maitre de makes suggesting a salad a ritual as pompous as reciting a wine list to overawe the poor diner. Caeser's shall it be or Waldorf or the Maharajah? No! How can Russian salad be ordered with French food? The Indonesian Gado-Gado presents a pleasant south-eastern variation and the Thai have elevated carving fruits and vegetables to a fine art to make marvellous salads. The Indians have their own kachumbars and pachadis. Well, salad does not have to be seen as an accompaniment, it can be meal on its own.
Why are salads indispensable? Because they provide an array of colours and add a delightful crunch to the meal! They are light on the stomach, are nutritious and can be utilised to give expression to all the pent-up creativity. Many figure-conscious people restrict their food intake to soups and salads. The executive, pressed for time, gladly make do with salads and sandwiches.
The only problem is that if cut vegetables and fruits remain exposed, these are likely to provide breeding ground for disease causing microorganisms. The reluctance of most persons to avoid salads away from home is understandable. With improvement in refrigeration and packaging things are improving and there are specialised outlets in big cities and trendy boomtowns that have introduced the youngsters to salad sensations. Nothing is more satisfying than composing your own salad to match your mood (and appetite).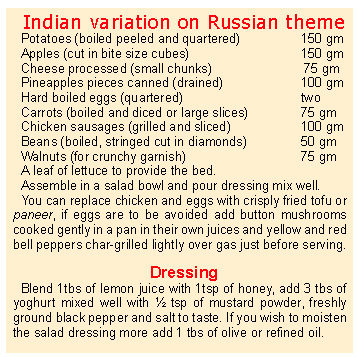 The secret of preparing a great salad — not just a good one — is to use the freshest, best ingredients. Then, one must pair the salad with an attractive and appropriate dressing. Resist the temptation to go heavy on bottled mayonnaise. Many classic dressings the French, Thousand Island, Italian just to name a few, are easily made at home. Lime and honey, olive oil and crushed garlic, powdered mustard and a pinch of dried herbs work wonders. A spoonful of yoghurt can easily replace the cream or fat mentioned in the recipe.
The best thing about salads is that these can be prepared in advance and hardly require any cooking (even when hard-boiled eggs, or cold cuts of meat, boiled/grilled chicken and fish or seafood is used).
It is surprising that Indians who live in a summer more scorching than most have not developed native salads of their own. Although some chat items like chickpea filled gol gappe, dahi papri and alu ki chaat come close to the conception as do some raita.
A salad bowl or two with matching spoons and forks and individual serving bowls in wood or gleaming metal can enhance the salad experience manifold. These accessories are worth the small investment. If you feel you are up to it and can manage it, do practice tossing the salad, it is vastly entertaining like a bartender juggling his breakable bottles.