IT amidst palms, pools & food courts
With its breath-taking landscaping, manicured lawns and enviable swimming pool, the Infosys office in Bangalore is a visual delight. With Chandigarh set to be home to a 20-acre Infosys campus, will the City see an encore of the architectural feat, asks Rajnish Wattas.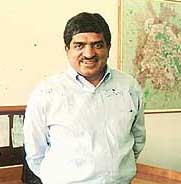 Nandan Nilekani,
the Infosys MD
RECENTLY, when Infosys celebrated its billion-dollars sales landmark, it was not only Alka Yagnik and Kumar Sanu who crooned kuch kuch hota hai at the party. The poster boy of Indian IT had millions of 'Generation X' of the country singing to its tune, as their inspirational model. No wonder, Nandan Nilekani, its MD, proud as a peacock preened, "It's an example of how you can have a bunch of young people without family history or money going on to make millions of dollars through sheer commitment and hard work."
My visit to the famed Infy (short for Infosys) campus, begins when I get my visitor security pass — a digitalised I-Card with a mug shot — from a smart set of security personnel, who politely tell me to be back within an hour. Led by a bright Infoscion —as the young employees are called — we move into the lush green ambience of the campus, which has the quietitude of an American Ivy-league university campus. The 29 building blocks are in uniform off-white pastel shades with sleek reflecting glass on their facades. The roads run on the periphery to minimise vehicular traffic and internal courts have manicured lawns with swaying palms, coconuts and other tropical vegetation. Imaginatively designed pedestrian paths connect buildings with one another, inducing people to walk.
There is plenty to relieve the visual monotony of buildings; as besides the landscaping, there are huge food courts — the biggest one with a hyperbolic shell, reminiscent of the Sydney harbour Opera House. On its lower floor are located employee facilities like a huge stat-of-the-art gym, pool tables and a utility store. The decks of the food courts overlook a panoramic view of an emerald blue swimming pool; almost the envy of any five-star hotel. Then there is a small lake with paddle boats and a Japanese bridge replicating the landscape of some natural beauty spot.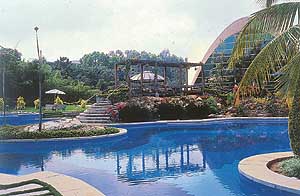 The swimming pool against the backdrop of a food court modelled on the Sydney Opera House.
All this beauty and aesthetics of the physical built-form has been strategically designed. Infy realises that the biggest asset of a knowledge-based organisation like theirs, is the core competence of its human resource; and to nurture its peak performance such 'de-stressors' are required.
For inside the offices, work goes on round the clock, "till you have delivered the day's commitment". No wonder, its Chief Mentor the legendary Narayan Murthy says, "Our respect for our professionals can be summed by our belief that the market capitalisation of Infosys becomes zero after working hours at 5 p.m., no matter what it was during the day."
The company's motto: is "Powered by intellect, driven by values." Employees cycling from one block to another or just walking with the hallmark colourful 'Infy umbrella' is a ubiquitous sight — and a very happy one; as it sends the right signals of giving value to healthy habits like walking, and cycling.
All wastewater is recycled and used to water the lawns. Similarly, ground water is recharged by water harvesting techniques. Sometimes back, when an old banyan tree in the campus had to be pruned for its rejuvenation; the HRD folks circulated a detailed explanatory memo giving reasons for lopping off its majestic branches. And myriad 'leafs' of tender notes were received in response, from mawkish Infoscions. It also cares for its heritage fiercely. The oldest building on the campus, the 'Heritage Building' sports a distinctly different feel and architecture and has been retained in its original form and colour.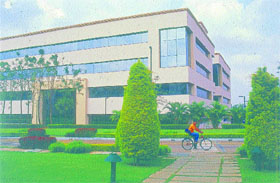 Infoscions are encouraged to cycle between blocks. — Photos by the writer
The high point of the visit is the appointment with Nilekani. I reach the Corporate Office Block 15 minutes ahead of time and enter a large, spacious granite-floored, elegant — but not ostentatious — lounge. It has a huge glass wall providing a panoramic view of landscape of the campus. Comfortable lounge chairs placed in cosy clusters have been provided with finger touch computers and internet facility. Contrary to his photo-image of a burly hunk with bushy eyebrows and piercing eyes; he comes across in real life as 'the guy next door' of rather medium height and a very modest look. I notice that the office has a very spartan ambience with hardly any papers on the desk, besides a laptop. The room has a commanding view through a huge glass window of the beautiful campus.
I can't resist making a comment about the landscaping being more scenic and pictorial rather than eco-friendly — as there are more of foliage plants and sprawling lawns and less of shade-giving trees for which Bangalore is famous. Nilekani is quick to retort that Infy is very sensitive to environmental issues. His awareness about Chandigarh's great architectural heritage as Le Corbusier's city is very evident, when he tells me that he has advised their architect for the new campus: Hafeez Contractor, to make it harmonise with the city's famed architectural style. As I make him aware of the excellent location of the IT Park, so close to the City's lake, and the related environmental aspects — he listens with great attention and concern; and assures me of an appropriately sensitive design.
Before leaving, I can't help asking him about the secret of his patient and relaxed persona; as throughout our meeting, I seemed to have done most of the talking — and he the listening; interrupting only for some clarifications or pointed questions. He replies with a half-smile on beings very regular and particular about his workout and prayers every morning.
I left after clicking a photograph of him and wondering about the soon; 'when Infy comes to town' days.