Vijayakanth goes the MGR way
Arup Chanda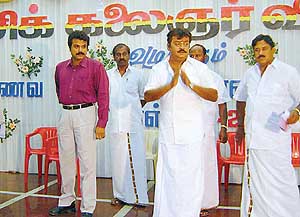 In a different role: Vijayakanth on the political stage
Tamil film superstar Vijayakanth seems to have emulated former Tamil Nadu Chief Minister and megastar M.G. Ramachandran.
His showdown with the Pattali Makkal Katchi (PMK), a regional party in Tamil Nadu, after his utterances against the Union Health Minister, Dr R. Anbumani, had led to a situation where PMK leaders had asked people to boycott his films.
Vijayakanth, who has political ambitions, was happy with the boycott call but the PMK soon realised that like MGR, the actor would exploit the situation in his favour and decided to back off.
When MGR was dominating the tinsel town, he was faced with a similar situation with the then ruling Dravida Munnetra Kazhagam and he made his political rivals bite the dust.
When MGR's blockbuster Ulagam Suttum Valiban was set for release in cinema halls around the state, the DMK, with which he had just fallen out then, tried some tricks to ensure that the much-hyped film does not hit the screen on the appointed day.
Efforts were made to arm-twist laboratories to stop them from making adequate number of prints and some other sectors in the industry were also threatened.
But then, MGR, the swashbuckling hero, pre-empted the moves by his "villains" and surmounted the obstacles by making the prints in Bombay labs and deploying stunt men from film industry as guards in cinema halls.
Vijayakanth too was arming himself to face the challenge from the PMK in the typical MGR way, and the PMK leadership, fearing defeat, decided to put an end to the standoff.
Vijayakanth too has not launched himself into politics actively as he is not certain of his success. And like Rajnikanth, he does not want to enter into the political arena and fail.
He said, "I am treading cautiously. I do not want to make a mistake and fail. If I take a step and have a fall and 'hurt' myself then no one will bother about me. Even the media will not be interested in me after that."
Scotching all rumours that he had already named his party, he said, "I may launch a party. Maybe this August or next August or on Tamil New Year day or any other time. But I am not starting a party now."
He said he would take the decision at the "right time" but asserted that if he took a decision he would not go back on it.
"I am thinking of leaving it to a vote among my fan-club members at a conference next year, just as Anna, the late leader of the Dravidian movement, did."
However, he claimed he was not a novice in politics, as described by the PMK founder, Dr Ramadoss. He had been politically active since he was 12 and he even took part in the anti-Hindi agitation.
He felt actors had taken up social causes qualifying them for politics.
"Since the Neyveli stir by actors last year on the Cauvery issue, film industry in Tamil Nadu had to put up with loss in film revenue from distributors in Karnataka.
Film actors have always been elected to high offices, not just in Tamil Nadu. Ramadoss himself had acted in three films," he said.
In a state which has produced four chief ministers with a film industry background, Vijayakanth's prospects do not seem to be dim in politics. But only if he plays his cards well.