Summer sojourn in Manali
Priya Chadha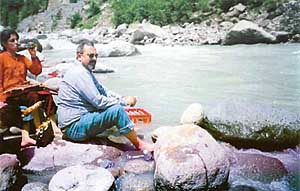 Sitting by the bank of river Beas is soothing. — Photo by the writer
The former Prime Minister Atal Bihari Vajpayee's week-long summer sojourn in his two-storey red painted roof house in Prini in Manali made news. The panoramic view of spectacular and beautiful landscapes and scenic view of lush green valleys from his cottage veranda, inspires him to write lyrical poetry.
Not only the ex-prime minister but thousands of people from different social and economic backgrounds travel from all over India as well abroad to Manali to get respite from the scorching summer heat.
Manali, is an exciting destination with a promise of adventure, entertainment, excitement and relaxation. The cool weather and misty mountains lure visitors.
The hectic drive and fatigue is offset by the cool Manali weather sometimes accompanied by rain and snowfall.
Hadimba temple is just 1.5 km from Manali. Thousands of pilgrims can be seen waiting in serpentine queues to take blessings of goddess Hadimba. This four-tier pagoda roof temple is famous for its exquisitely carved doorway and the statue of goddess Hadimba.
Vashisht is one of the main attractions of Manali. People visit this temple to take a dip in hot water which spouts from sulphur springs. This hot water is renowned for medicinal qualities. Other famous temples are the Manu and Jagat Sukh temples.
Arjun Gufa: is on the left bank of the Beas and at a distance of 5 km from Manali. Rohtang Pass is at height of 4112 metres and 51km from Manali town.. On the way it provides a wide panorama view of snow-capped mountains. On a way to Rohtang Pass there is a beautiful spot known as Nehru Kund for nature lovers and photographers. Most of the tourists break their journey en route to Rohtang at Marhi, a small village dotted with dhabas churning out hot pakoras.
Solang Valley is at a distance of 13 km from Manali. The breathtaking view of snow-capped mountains and glaciers all around the valley is the main attraction for tourists. They lodge themselves in tents for fun , excitement and adventure.
Turning left from Patlikulh, is Naggar castle built hundreds of years ago perched on a hill top offering a beautiful view of the breathtaking valley below. It also offers boarding and lodging to the tourists who want to spend a quiet night in the quaint environs of the castle.
Roerich Art Gallery, is a must-see place for lovers of art. It is not far from the castle displaying exquisite works of art.
Between Kulu and Manali one finds Katrain , a few kms from Bhunter known for its delicious apples, which are transported to all parts of the country and across the globe.
Besides sight-seeing there are many adventures sports such as trekking, safari, rafting, skiing, hang gliding, helicopter skiing and mountaineering.
Manali is known for its trout fish. One has to be an expert angler, if he is not a local to be luckily to catch a few from the riverbank. A delicacy relished equally by locals and tourists finds its place in choicest of cuisines available in upmarket as well as fashionable restaurants.