Television
Shine's back on Ruby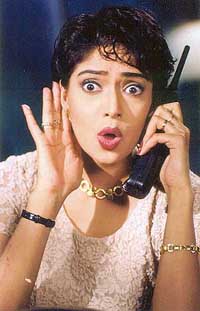 Ruby Bhatia in Hello
Back in 1996 she was the icon of hip who raised smart banter to the level of an art form. As Channel V's star VJ, Ruby Bhatia's gamine charm won her a million viewers.
Those were the days when her fan mail came in sacks as she hosted shows like BPL Oye, Vibe and Ek Ka Teen. But even as she was riding the crest, came the fall. She was suddenly was out of Channel V and a big question mark stared her in the face.
But then she started re-inventing herself. She did a cameo in Nitin Bali's album Na Jaane and hosted Neerja Guleri's Hello and Kinetic Mega Show.
She made a foray into acting with Yeh Hai Raaz, was briefly seen in Kasautii Zindagi Kay and has been doing plenty of ad campaigns.
Now comes a thrilling new serial, Tamanna House, on Zee TV that she knows could have a very significant impact on her future. It's about a party hosted by a couple to celebrate their divorce. On the party night a murder takes place and things go haywire.
Madonna on write path

The Material Girl is as good a storyteller as she is a singer, for she has scored a hat-trick with her latest children's book, Yakov and the Seven Thieves. Targetted at kids above six, the book will debut at No 7 on New York Times bestseller list. This is Madonna's third book in a row to make it to the prestigious list. It "is a story about how all of us have the ability to unlock the gates of heaven — no matter how unworthy we think we are," she said. (ANI)
When disaster strikes
The cargo door of the United Airlines Flight 811 opens, rips a huge hole in the 747 taking out five rows of seats — and nine passengers — with it.
Air disaster can come suddenly and without warning. Ever imagined of what happens when tragedy strikes at an altitude of thousands of feet above the surface of earth?
In Air Crash Investigation aired July 18 and 25 at 9 p.m., the National Geographic Channel reveals how delays in fixing design faults have had terrible consequences. It talks to witnesses and brings forward the inside story of six major air disasters in the history.
Listen to the lucky survivors, the family members of victims and investigators as they piece together the evidence of major causes of accidents.
The hour-long episodes provide a compelling, in-depth look at one particular aspect of air safety such as pilot error, fire, poor maintenance and conditions born of the time pressures inherent in modern commercial aviation.
So fasten your seat belts and get ready for a bumpy journey.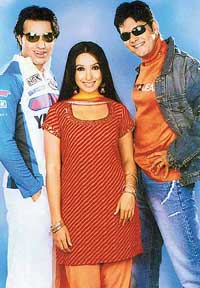 Bedi, Nigam & Upadhyay in Saathiya—Pyaar Ka Naya Ehsaas.
Three's company
In yet another attempt to attract eyeballs Sahara Manoranjan has come up with Saathiya—Pyaar Ka Naya Ehsaas Monday to Thursday at 8.30 pm.
It's a story of three young individuals and the choices that define their destinies. There's the flamboyant Kshitij who lives life kingsize. Then there's the laidback Aryan whose love for the good things of life is unending. And then there's Gayatri, a smart, intelligent girl who's full of confidence.
The three set out to re-define the meaning of love and friendship and pay a price for it.
Banking on stars like Amar Upadhyay, Shraddha Nigam and Sanjit Bedi, the channel feels it has a winner on hand (finally).
Says Upadhyay, "It's something like Mohabbatien on small screen." What he doesn't clarify is whether he's comparing producer Prem Krishen to Yash Chopra or himself to Shah Rukh Khan. — NF