ULTA-PULTA
Style check
Jaspal Bhatti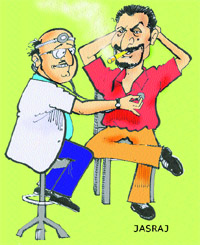 Youngsters start smoking just as a style statement. While trying to look like a Shah Rukh or Salman, they get into smoking till it becomes a habit. Smoking is highly injurious to health because of the dangerous levels of nicotine in cigarettes. Ayurveda practitioners are already bringing out herbal cigarettes.
The other new disturbing "modernism" trend is drinking at parties. Those who drink are considered cool whereas the unfortunate ones who donít are continuously harassed by remarks like, "Come on yaar, grow up! Have a drink or two". For such hapless non-drinkers, itís time premier liquor companies came out with fake liquor brands. These beverages should not have any alcoholic content but a kind of a mild stimulus so that after having two pegs, a non-drinker will also automatically switch from Punjabi to gulabi angrezi.
Hardcore non-vegetarians have a tough time when they find themselves amidst strict vegetarians. But here too the alternative theory seems to work. Modern day caterers serve vegetarian platters that look like kababs and juicy chicken legs. A vegetarian relative at the dinner table said, " Bhaji, you must taste this kale channe ki curry. I can bet it tastes the same as mutton curry".
Other addictives like pan masala can also be faked by packing prasads from various religious places.
One day, a boy was learning the choicest of abuses from his tutor. I asked his father, "Beta apka galian seekh raha hai?" His father explained, "My son had actually got into very bad company abusing everyone in Hindi or Punjabi. The tutor is now teaching him polished abuses in English".