Pearl Drego on how money not only makes the mare run but also a marraige last or flounder.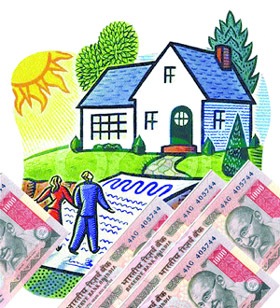 Marriage and romance often flounder on matters of money. Of the many couples who come to consult with me, almost 50 per cent have money as the root problem of the relationship breakdown. Inequality in financial power leads to daily bickering that erodes the very basis of mutual respect and partnership.
I have found that problems between husband and wife often surface within the first few months of marriage, even when there is plenty of money and when the original pre-marriage financial promises have been kept. The anxiety of hard bargaining in the early phase of matchmaking—when the groom's salary is discussed and the amount of dowry is fixed—can create scenes that haunt the couple for years to come. Daily interaction becomes a patchwork of resentful arguments about spending, saving and acquiring money.
Money can be a factor that strengthens a marriage bond. In several cases, money-matters strain relationships. The handling and sharing of money can test the quality of a relationship, especially if one of the partners is not earning.
Housewife Akhila Chandra, 30, says the last week of every month is a challenge for her. "Even the smallest purchase is scrutinised by my husband. I often hear, 'Why did you buy the bread from that shopkeeper? If you had walked 10 yards more you would have got it for Rs 2 less'." Her husband does not stop at this: he laments every month that they would have been better off had her father made better investments!
A woman who is not earning and is totally dependent on her husband for money is often denied the luxuries others in the house get. Mohini Chawla, a middle-aged housewife, was hurt when her husband—who sends their children on expensive school tours and travels abroad to watch golf tournaments—did not allow her to take a plane to see her own parents.
Besides, in spite of being very economical, she is accused of overspending. Maitri Srinivas, 45, gave up her job and personal income to look after her two children. Now, each time her husband relates to the children that it is he who is providing and caring for them, Maitri feels wounded and gets depressed. Arrogant shaming of the non-earning person is frustrating and can also end up in separation and divorce. Sharing information about their wealth and earnings does not come easily to men. Many wives do not know what their husbands are earning; where they invest; whom they bank with; or what is the proportion of white and black money they have. Soumya Singh, a working woman, was shattered when her husband died after their 10th wedding anniversary.
The shock was not only due to his sudden death but also on realising that he had squandered not only his, but her savings too, on market speculation. She had no reserves to fall back on. Several couples start joint bank accounts, but not many are happy with it. The most common complaint is that one partner is only spending and not putting any money in the account. Or, in some cases, one partner (usually the husband) monopolises the cheque book and the other rarely gets to use the money kept in the joint account.
Women who earn also face challenges. A woman's earnings can create more conflict if she is often on tour or if she controls her own finances. The husband's ego gets deflated if relatives discover this situation.
Ravi and Rita Garg - in their early 30s - were on the verge of a divorce because of money. They were hurling insults at each other over the spending or saving that each one did. Their respective in-laws made things worse by giving them advice on how to punish the other financially. After several sessions of counselling they now find that they fight less after having decided that he would spend on food, education and home care while she would spend on luxury items and family holidays. They somehow manage to share money as "Yours, mine and ours".
When men earn more, they tend to put themselves in an elevated position. Never mind if their contribution to raising the children and caring for the house is minimal. Men who earn less than their wives tend to feel inferior in comparison, and wives themselves are sometimes embarrassed at their higher earning power.
In fact, women tend to be shy about their earning capacities. In most cases, I have seen that they tend to follow the traditional domesticated stereotype of being ignorant about interest rates, investment options and bank balances. "How can I be smart about filthy lucre? That's my husband's portfolio. My duty is to keep the kids happy and see to their future.
Only I can keep the kitchen going and look after everyone's needs," says Savita Aggarwal, 40, almost ashamed of appearing 'calculating and greedy' about money. Women like to think they are carers, not managers.
Couples would be able to handle most money conflicts better if social attitudes towards marriage - as an occasion for business between families and where men control most of the finances after marriage - change. When family budget decisions are taken jointly, domestic harmony can be far easier to achieve.
(Dr Pearl Drego is a family counsellor and conducts training sessions for parents and children in distress. In this article, names of couples have been changed to protect their identity.) — WFS