B U S I N E S S

FM vows to revisit transaction tax
BJP says Budget inflationary, Left for FDI cap rollbacks


New Delhi, July 19
The government today ruled out total withdrawal of transaction tax, but assured that it would "revisit" the issue on the quantum of tax, while the Left parties continued to demand the government to roll back the hike in the FDI cap in telecom.

US curbs on BPO worry Nath
New Delhi, July 19
The government today informed the Rajya Sabha that the business process outsourcing (BPO) business in the country was expected to touch $ 3.6 billion in value terms during 2004, despite the curbs by the USA.
Patel for A-I, IA capital base expansion


New Delhi, July 19
Minister of State for Civil Aviation Minister Praful Patel today met Deputy Chairman of Planning Commission Montek Singh Ahluwalia and discussed the aircraft acquisition plans for the two national carriers besides seeking to expand the capital base of the two airliners.
TCS IPO at Rs 775-900 price band
Mumbai, July 19
Software major Tata Consultancy Services, which filed an Initial Public Offer (IPO) prospectus with Registrar of Companies today, has fixed its price band for the bidding between Rs 775-900 per share.
Strike has exporters on tenterhooks
New Delhi, July 19
The strike of the cargo-clearing agents at the Delhi airport, which entered its fourth day today, has severely hit the exports of readymade garments from the region, besides other exports and imports.
EPFO Board meeting today
New Delhi, July 19
In an renewed effort to evolve consensus, the EPFO Board is meeting here tomorrow for the third time to decide on the rate of interest to be offered to its three crore subscribers this year, even as trade unions have demanded higher returns.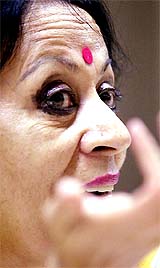 Noted danseuse Sonal Mansingh addresses a seminar on "Arts and Business" organised by the ladies wing of FICCI in New Delhi on Monday. — PTI




Sugar industry awaits sweet drops of sops
July 19, 2004
Planning Commission members sworn in
July 18, 2004
A-I profit, food quality nosedive
July 17, 2004
GAIL offers LNG to
fertiliser firms
July 16, 2004
For now, VAT means Very Agitated Traders
July 15, 2004
Infosys net grows 39 pc
July 14, 2004
8 pc growth difficult, says Chidambaram
July 13, 2004
No tax relief required for IT firms: Murthy
July 12, 2004
Solan to have
cement plant
July 11, 2004
Withdraw turnover tax, demand investors
July 10, 2004